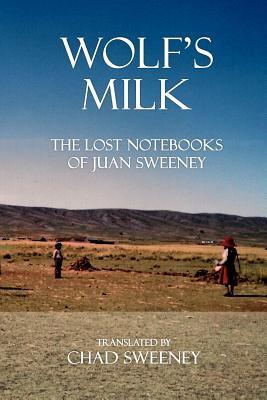 Wolf's Milk
The Lost Notebooks of Juan Sweeney
Paperback

* Individual store prices may vary.
Description
The letter before A is silence. -- Juan Sweeney from the Translator's Note: Little is known about the life of Juan Sweeney de las Minas de Cobre. He grew up between Andalusia, Ireland, Oklahoma and Bolivia, lived centuries ago and has yet to be born. Vicente Huidobro wrote in a letter to Sweeney, "Reading these poems, one desires annihilation and love in equal measures. One tastes metal, as of an asteroid belt of old trains passing overhead." Juan Sweeney preferred riding on the backs of trains to being seated inside; he loved cheese and whiskey and has often been compared to the troubadour poet, Cavalcanti, for his lifestyle of travel and intrigues with women of court. He inspired the characterization of Cervantes' journeyman, Don Quixote, and paradoxically of Byron's archetypical hero. I found these poems on shreds of paper in the walls of Sweeney Castle in Oklahoma, where I was born and where Sweeney de las Minas de Cobre presumably passed away, though his body soon disappeared from the family crypt.
H_ngm_n Books, 9780983221579, 138pp.
Publication Date: February 21, 2012
About the Author
Chad Sweeney is the author of Parable of Hide and Seek (Alice James), Arranging the Blaze (Anhinga), and An Architecture (BlazeVOX) and co-translator of the Selected Poems of contemporary Iranian poet H.E. Sayeh (White Pine). Sweeney's poems have been included in Best American Poetry, The Pushcart Prize Anthology and The Writer's Almanac. He teaches in the MFA program at California State University, San Bernardino and lives in Redlands with his wife, the poet Jennifer K. Sweeney and their son Liam. Juan Sweeney de las Minas de Cobre is undoubtedly the most mysterious and influential Spanish/Irish poet to have ever lived. His life and poems are commonly credited as the seeds for Cervantes' Don Quixote as well as Lord Byron's eponymous hero. Sweeney described himself as "what night coughed up on its shore," and indeed it proves difficult to locate his year and place of birth. A direct descendent of the pagan king Sweeney the Mad and of the mystical wolf herder of Mt. Ararat, Sweeney's childhood touched down in much of Ireland, Spain, Byzantium, Bolivia and Oklahoma. Though he loved cheese and whiskey, he could go weeks without food or sleep with a spare set of clothes packed inside his guitar. Famously loyal, Juan Sweeney of the Copper Mines regularly visited all seventeen of his grandmothers, and you should too.
or
Not Currently Available for Direct Purchase