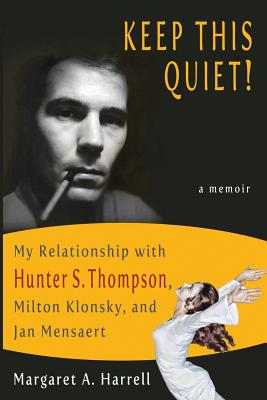 Keep This Quiet!
My Relationship with Hunter S. Thompson, Milton Klonsky, and Jan Mensaert (Keep This Quiet! I)
Paperback

* Individual store prices may vary.
Description
"Hunter often said Harrell was the best copy editor he'd ever worked with" (William McKeen, "Outlaw Journalist"). But what was the rest of the story? "Keep This Quiet" captures the fear and loathing, charm and romance of Hunter in the late Sixties - along with tales of two other underground authors. Included are genuine, funny letters he sent Margaret during and after the publication of "Hell's Angels." Also, priceless reminiscences of some of Hunter's oldest friends: William Kennedy, David Pierce, Rosalie Sorrels, and editor Jim Silberman - covered in no other account. Featured in addition are "po te maudit" Jan Mensaert and Greenwich Village "poet genius" Milton Klonsky. Also, Hunter's sidekick Oscar Acosta.
Saeculum University Press of NC, 9780983704508, 258pp.
Publication Date: September 20, 2011
About the Author
The author of eight books in the "Love in Transition: Voyage ofUlysses-Letters to Penelope" nonfiction series, including "Towarda Philosophy of Perception" and "Marking Time with Faulkner," Harrell copy edited Hunter Thompson'sfirst book, "Hell's Angels," at Random House. HST acknowledgedher in "Gonzo Letters" 2. She is also an editor, cloud photographer, and mentor to people trying to maximize their potential. Academically, she graduated from Duke University and Columbia University and attended the C. G. Jung Institute Zurich. She lived a long time in Belgium, years in Morocco, and several years in New York City, and currently lives in Raleigh, North Carolina