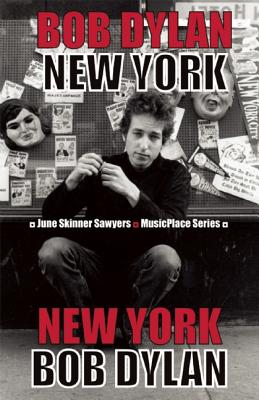 Bob Dylan (Paperback)
New York (Musicplace)
Roaring Forties Press, 9780984316595, 133pp.
Publication Date: May 1, 2011
* Individual store prices may vary.
Description
Packed with information, savvy insights, and surprising facts, this guide to Dylan's years in New York City examines the role that the city played in the creation of his music, the evolution of his creative process, and the continual reinvention of his public persona. In the landscape of Manhattan, Dylan created words and sounds that redefined the possibilities of popular music throughout the world. Chronicling where he lived, worked, and played, this book offers an evocative portrait of the city, especially its folk scene during the 1960s. With street maps featuring more than 50 sites--from fleabag hotels and avant-garde clubs to tiny coffeehouses and vast concert halls--readers can navigate Bob Dylan's New York and experience the sites and sounds that influenced the singer, such as Caf Wha?; the Chelsea Hotel; Columbia's Studio A, where he recorded songs such as "Desolation Row" and "Positively 4th Street;" the Decker Building, where he hung out with Andy Warhol and Nico; the Delmonico Hotel, where he introduced the Beatles to marijuana; and the Bitter End, where he spent much of the summer of 1975 playing pool and guitar.
About the Author
June Skinner Sawyers writes the "Resourceful Traveler" column for the Chicago Tribune; her work has appeared in the Common Review, Dirty Linen, the San Francisco Chronicle, and Sing Out! She is the author of more than 20 books, including Celtic Music: A Complete Guide, Racing in the Street: The Bruce Springsteen Reader, Read the Beatles, and Tougher Than the Rest: 100 Best Bruce Springsteen Songs. She lives in Chicago.
Praise For Bob Dylan: New York (Musicplace)…
"A must-read for any music fan visiting New York . . . both an entertaining story and an excellent practical guide." www.suite101.com (April 27, 2011)

"Good for basic armchair amusement and for adding factoids to your Dylan-lore; as a Dylan fan . . . you'll absolutely adore Bob Dylan New York." www.antimusic.com (May 11, 2011)

"The author brings the Greenwich Village of the '60s to life." David Luhrssen, www.ExpressMilwaukee.com (May 15, 2011)

"Sawyers' compact book is a primer for those who are unfamiliar with Bob Dylan and a cherry atop a hot fudge sundae for those who can recite every lyric to every song." www.examiner.com (May 24, 2011)

"The city influenced the man and the man helped shape the city in the early '60s, and you can read about all of that in this informative and fanciful book." www.curledup.com

"An atmospheric history with enough detail to make you feel at home in Dylan's world. . . . Downright refreshing." www.GenerallyEclecticReview.blogspot.com

"Perfect for those who wish to retrace the Bard's footsteps." Mojo (August 29, 2011)