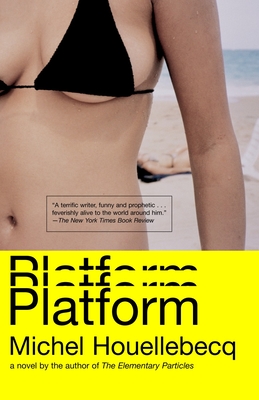 Platform (Vintage International)
Paperback

* Individual store prices may vary.
Other Editions of This Title:
Paperback, Spanish (11/30/2013)
Paperback, Portuguese (10/15/2018)
Paperback (9/1/2003)
Description
In his new work, Michel Houellebecq combines erotic provocation with a terrifying vision of a world teetering between satiety and fanaticism, to create one of the most shocking, hypnotic, and intelligent novels in years.

In his early forties, Michel Renault skims through his days with as little human contact as possible. But following his father's death he takes a group holiday to Thailand where he meets a travel agent—the shyly compelling Valérie—who begins to bring this half-dead man to life with sex of escalating intensity and audacity. Arcing with dreamlike swiftness from Paris to Pattaya Beach and from sex clubs to a terrorist massacre, Platform is a brilliant, apocalyptic masterpiece by a man who is widely regarded as one of the world's most original and daring writers.
Praise For Platform (Vintage International)…
"A terrific writer, funny and prophetic . . . feverishly alive to the world around him." – The New York Times Book Review

"Calculated to poke, prod, engorge, enrage and amuse. . . . It's dangerous in the way that literature is meant to be dangerous—that is, it awakens neglected sensibilities."—The New York Observer

"Houellebecq's writing has a raw, disquieting brilliance. . . .It's 'genius.'"—The Washington Post

"Brilliant, charming, puzzling, annoying and sometimes downright repulsive." —The Denver Post

"Full, acidic, self-flagellating . . . [Platform has] earned Mr. Houellebecq the status of conversation piece, agent provocateur and savage messiah." —The New York Times

"Remarkable . . . hilarious. . . . [Houellebecq] writes from the soul of a despairing, acutely lucid bureaucrat on Viagra." —Los Angeles Times Book Review

"Scaldingly honest . . . [Platform] takes no prisoners as to prevailing terms of politically correct or any-other-way-correct discourse. . . . It frequently uses jarring juxtaposition to dislocate us from complacencies, received wisdoms or even moderate comfort. . . . The analysis is broad and extremely knowledgeable . . . [with] quirky and sometimes horrific observations on everything from ecology to airport gift shops to incest. . . . Bracing." —St. Louis Post-Dispatch

"The most potentially weighty French novelist to emerge since Tournier. . . . The trajectory of Houellebecq's world view will be worth following." —The New Yorker

"An outstandingly powerful and relevant novel about sex, death, and Islam." —Hanif Kureishi

"Astute, graceful, sexually preoccupied, occasionally alarming. . . . Eviscerat[es] the cultural moment." —The Baltimore Sun

"The characters in Platform are detestable. . . . And the hatred [Michel] expresses . . . is loathsome. . . . But what is wrong with this? Why should literature not be as cruel as life itself? . . . This book offers us an 'I' we can relate to–hate, love, fear–without being pointedly obstructed by the author's tormented cosmology. . . . Moving." —San Francisco Chronicle

"Brilliant. . . . Reads like a shot. . . . The excitement of Platform is the force with which Houellebecq says the unsayable, his determination to cut through moral equivocation." —Salon

"[A] dirty novel of ideas. . . . Houellebecq's sex scenes are hot and bountiful." —Entertainment Weekly

"An extraordinary blend of pornography, satire and diatribe . . . Houellebecq is an undeniably gifted writer–I found myself reading on, even when the impulse to throw the book across the room grew strong." —Charles Matthews, San Jose Mercury News

"Odd, subversive entertainment." —The Boston Globe

"What's at stake is the desacralizing of sex, its final leap into the realm of pure commodity, the role of implacable consumption in cultural imperialism. . . . It's not the kind of book you only read once." —The Village Voice

"Cynical and anomic . . . literary and complex." –The Atlantic Monthly

"Shockingly vile and shockingly banal, written with an ear toward pissing off just about everyone. . . . Houellebecq's novel is tough to put down no matter how much you'd like to. . . . Like good porn it's increasingly difficult to draw your eyes away as it oozes toward climax." —Austin Chronicle

"A work of considerable imagination and wit. Even when the reader is most repelled, he may want to view the writer with grudging admiration. . . . [Michel Renault's rants] are very funny, and . . . very true." —The Sunday Star-Ledger (Newark, NJ)

"Platform cuts precisely to the core of every imaginable big-picture problem facing the world. . . . Houellebecq knows how to get a rise out of his readers. . . . His prejudices are serious, and current." —American Book Review

"Houellebecq writes with an honesty and an anomic conviction that raises his novels, beyond any single troubling moment, toward genius." —Toronto Globe and Mail

"The most important book of the year–and perhaps of the century thus far. . . . Dazzling and prescient. . .Houellebecq [is] one of the finest novelists of ideas alive." —Evening Standard (London)

"Brilliant. . .A thrilling read, close to Swift's A Modest Proposal in its impact." —Daily Telegraph (London)

"Extraordinarily good. . . Houellebecq is one of the few novelists working in any language who properly understands the tensions of the present age. He is also utterly fearless in articulating this." —New Statesman

"Houellebecq writes with humor as sharp as a razor's edge. There is bravery and even bravado in [his] prose. He alone among contemporary writers is prepared to do what the likes of Orwell and Huxley did and put up a mirror to our past and project its reflection on the future." —Financial Times (London)


Vintage, 9781400030262, 272pp.
Publication Date: July 13, 2004
About the Author
Michel Houellebecq's The Elementary Particles, an international bestseller, won the prestigious Prix Novembre in France as well as the lucrative International IMPAC Dublin Literary Award. He lives in Ireland.