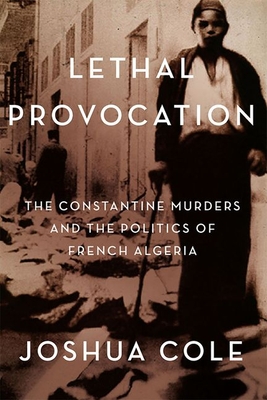 Lethal Provocation
The Constantine Murders and the Politics of French Algeria
Hardcover

* Individual store prices may vary.
Description
Part murder mystery, part social history of political violence, Lethal Provocation is a forensic examination of the deadliest peacetime episode of anti-Jewish violence in modern French history. Joshua Cole reconstructs the 1934 riots in Constantine, Algeria, in which tensions between Muslims and Jews were aggravated by right-wing extremists, resulting in the deaths of twenty-eight people.
Animating the unrest was Mohamed El Maadi, a soldier in the French army. Later a member of a notorious French nationalist group that threatened insurrection in the late 1930s, El Maadi became an enthusiastic supporter of France's Vichy regime in World War II, and finished his career in the German SS. Cole cracks the cold case of El Maadi's participation in the events, revealing both his presence at the scene and his motives in provoking violence at a moment when the French government was debating the rights of Muslims in Algeria. Local police and authorities came to know about the role of provocation in the unrest and killings and purposely hid the truth during the investigation that followed. Cole's sensitive history brings into high relief the cruelty of social relations in the decades before the war for Algerian independence.
Cornell University Press, 9781501739415, 336pp.
Publication Date: September 15, 2019
About the Author
Joshua Cole is Professor of History at the University of Michigan. He teaches nineteenth and twentieth century European history and has published work on gender and the history of the population sciences, colonial violence, and the politics of memory in France, Algeria, and Germany. His book The Power of Large Numbers was selected as an Outstanding Academic Title for 2000 by Choice Magazine. He is also coauthor, with Carol Symes, of Western Civilizations.