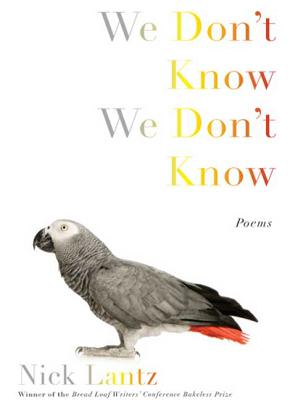 We Don't Know We Don't Know
Poems
Paperback

* Individual store prices may vary.
Description
Winner of the 2008 Katharine Bakeless Nason Prize for Poetry, Nick Lantz's poems introduce a startling new voice.
Taking its title from a dodging statement from former secretary of defense Donald Rumsfeld, We Don't Know We Don't Know assesses what it means to claim new knowledge within a culture that professes to know everything already. The result is a poetry that upends the deeply and dangerously assumed concepts of such a culture—that new knowledge is always better knowledge, that history is a steady progress, that humans are in control of the natural order. Nick Lantz's poems hurtle through time from ancient theories of physics to the CIA training manual for the practice of torture, from the history of the question mark to the would-be masterpieces left incomplete by the deaths of Leonardo da Vinci, Nikolai Gogol, Bruce Lee, and Jimi Hendrix. Selected by Linda Gregerson for the esteemed Bakeless Prize for Poetry, We Don't Know We Don't
Praise For We Don't Know We Don't Know: Poems…
                                                On the moon, astronaut David Scott drops a hammer and a falcon feather,                 and we learn nothing                                      we didn't already know.                                                               —from "Ancient Theories"
Graywolf Press, 9781555975524, 96pp.
Publication Date: March 2, 2010
About the Author
Nick Lantz is the author of a second collection, The Lightning That Strikes the Neighbors' House, which won the Felix Pollak Prize in Poetry. He lives in Madison, Wisconsin.