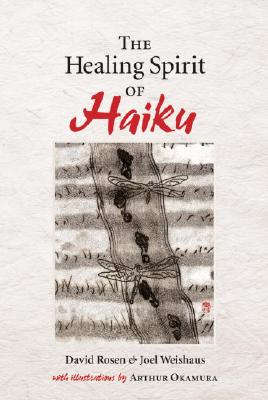 The Healing Spirit of Haiku
Paperback

* Individual store prices may vary.
Description
For David H. Rosen and Joel Weishaus, haiku represents a healing union of intuition and sensation, past and present, self and other, ordinary and extraordinary, and current and ancient memories. In this simple, compelling book, the authors, who have lived and traveled extensively in Japan, offer 172 haikus that resonate with Zen Buddhist, Shinto, and Taoist insights. Underscoring the philosophy "moments, moments, that is life," the book takes readers beyond the ego into a healing realm of simple, archetypal words. This book is a haibun of psyche, an exchange of poetry and prose between two old friends who set out to accomplish a soulful journey together.
Praise For The Healing Spirit of Haiku…
"I think a book should be intelligent, well-crafted, and beautiful. A book is not a message to grasp but an object to love. I love this new book of haiku and images and will be happy to be in its presence, touch it, and feast on it for many years. It is a perfect example of John Keats' idea of soul-making: transforming the everyday into beautiful and probing reflection. It is what Wallace Stevens called 'a mirror with a voice.'"
—Thomas Moore, author of Care of the Soul and Dark Nights of the Soul

"This deeply human dialogue of haiku and commentary follows in the footsteps of Issa and Buson. Rosen and Weishaus express their psychological wisdom with lightness, humor, and a uniquely personal touch. A treasure!"
—Claire Douglas, author of Translate this Darkness and The Woman in the Mirror

"An altogether pleasurable book indeed!"
—Robert Creeley, author of Life and Death

"This book of texts and encounters, of poetic moments and prose commentaries, of interpersonal responses, has the feeling of a work that is both very ancient and utterly contemporary. It enacts what it's about—a spiritual journey, a creative healing."
—Edward Hirsch, author of Lay Back the Darkness and Wild Gratitude

"To have one's soul evoked by reading, that in itself can be a sacred act. To me, since forever, el libro es sancta: a book is blessed—for inside, there can be water glistening to moisten the parched throat, and a thunder of wings that can carry us to a homeplace where exists essential remembrance of 'what truly matters.' Haiku, to me, is the quintessential story form, one that like a twilight is meant to be walked through with care, so as to see and feel the clarity of things that cannot be seen from a dusky afar. This work you hold in your hand offers that twilight walk, and more."
—Clarissa Pinkola Estes, Ph.D., author of Women Who Run with the Wolves and The Gift of Story
North Atlantic Books, 9781556435300, 192pp.
Publication Date: October 13, 2004
About the Author
David H. Rosen has over a hundred publications to his credit, including articles, chapters, essays, and haiku poetry. He has a long-standing interest in spirituality and the healing process. He now makes his home in College Station, Texas, and is the father of three daughters, and has two grandsons. His webpage is http: //psychology.tamu.edu/Faculty/Rosen/index.html.

Joel Weishaus presently lives in Portland, Oregon, where he is Visiting Faculty in Portland State University's Department of English (http: //web.pdx.edu/ pdx00282).
or
Not Currently Available for Direct Purchase