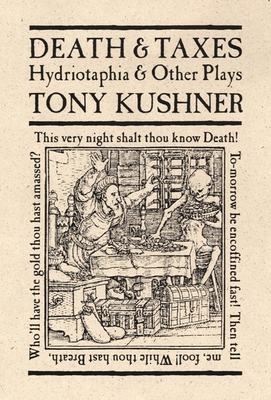 Death & Taxes
Hydriotaphia & Other Plays
Paperback

* Individual store prices may vary.
Description
This is an odd assemblage of plays, for which gathering-together there is no overarching thematic justification. Because several of the plays deal with death, and one of the death-plays deals as well with money, and the last play deals with taxation, we're calling the book Death & Taxes. But all plays, directly or indirectly, are about death and taxes, so this title explains little... -Tony Kushner
This stunning new collection by Tony Kushner, the Pulitzer Prize-winning author of Angels in America, showcases his masterful explorations of form and style. A rich and vibrant collection from one of our greatest American playwrights, Death & Taxes includes the following treasure trove of works: In Reverse Transcription: Six Playwrights Bury a Seventh, six playwrights come together to bury their contemporary and friend, Ding. They discuss and brood on their lives, writings, and loves. Theatre critic Dr. David Nowlan calls Reverse Transcription "rich in allusion, elegant in language and satirically funny" (Irish Times). Hydriotaphia or The Death of Dr. Browne begins at one man's deathbed and becomes an epic farce spanning Heaven and Earth.
"Karl Marx said that history occurs first as tragedy and then as farce. In Hydriotaphia, Tony Kushner says that history is tragedy and farce at once. Ben Jonson meets Bertolt Brecht in this brilliantly funny and dark knockabout play of the rise of the entrepreneurial spirit. As in all of Kushner's work, the play teems with ideas." -Robert Hass, former U.S. Poet Laureate
"The play flourishes Kushner's trademark ability to mix up wildly diverse tonalities and ideas -- bawdy humor, theological and class warfare debate, fourth-wall-breaking, dizzying monologues, fantasy and domestic intrigue all whirl like a juggler's pins." -Variety Inspired by Shakespeare's "Sonnet 75," Terminating or Sonnet LXXV "is a delirious, scatological encounter between a psychotherapist, her madly besotted patient and their lovers, which contains some dizzyingly fine writing" (Variety).
"Tony Kushner at his most fanciful and eclectic ... fierce, strange and clever theatre." -Evening Standard East Coast Ode to Howard Jarvis is a one-man show featuring two dozen characters' involvement in a tax evasion scheme.
"Surreal, confrontational and funny." -Prospect Magazine (UK)
There is such clarity conveyed not just in the language but in the rhythm and the nuance. Ideas and phrases honey drip from the script. Listening is an indulgence." -The Stage Notes on Akiba has been performed at The Jewish Museum and other venues during Passover. Fictionalized versions of playwright Tony Kushner and director Michael Mayer reimagine aspects of Jewish history, tradition and myth. G. David Schine in Hell was originally published in New York Times Magazine. Featuring an appearance by Kushner's fictionalized Roy Cohn of Angels in America, this short play revisits Cohn and several other American Conservatives of the McCarthy era as they adjust to an afterlife in Hell.

Theatre Communications Group, 9781559361569, 316pp.
Publication Date: December 1, 1998
About the Author
Tony Kushner's plays include Angels in America; Hydriotaphia, or the Death of Dr. Brown; The Illusion, adapted from the play by Pierre Cornelle; Slavs!; A Bright Room Called Day; Homebody/Kabul; Caroline, or Change, a musical with composer Jeanine Tesori; and The Intelligent Homosexual's Guide to Capitalism and Socialism with a Key to the Scriptures. He wrote the screenplays for Mike Nichols's film of Angels in America and for Steven Spielberg's Munich and Lincoln. His books include The Art of Maurice Sendak: 1980 to the Present; Brundibar, with illustrations by Maurice Sendak; and Wrestling with Zion: Progressive Jewish-American Responses to the Israeli-Palestinian Conflict, co-edited with Alisa Solomon.Among many honors, Kushner is the recipient of a Pulitzer Prize, two Tony Awards, three Obie Awards, two Evening Standard Awards, an Olivier Award, an Emmy Award, two Oscar nominations, and the Steinberg Distinguished Playwright Award. He is a member of the American Academy of Arts and Letters. In 2012, he was awarded a National Medal of Arts by President Barack Obama. He lives in Manhattan with his husband, Mark Harris.