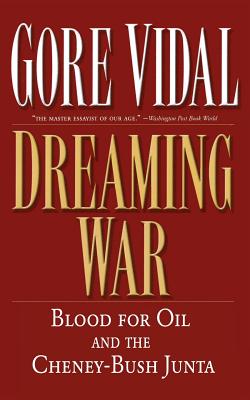 Dreaming War
Blood for Oil and the Cheney-Bush Junta (Nation Books)
Paperback

* Individual store prices may vary.
Other Editions of This Title:
MP3 CD (12/31/2019)
Compact Disc (12/31/2019)
Description
When Gore Vidal's recent New York Times bestseller Perpetual War for Perpetual Peace was published, the Los Angeles Times described Vidal as the last defender of the American republic. In Dreaming War, Vidal continues this defense by confronting the Cheney-Bush junta head on in a series of devastating essays that demolish the lies American Empire lives by, unveiling a counter-history that traces the origins of America's current imperial ambitions to the experience of World War Two and the post-war Truman doctrine. And now, with the Cheney-Bush leading us into permanent war, Vidal asks whose interests are served by this doctrine of pre-emptive war? Was Afghanistan turned to rubble to avenge the 3,000 slaughtered on September 11? Or was "the unlovely Osama chosen on aesthetic grounds to be the frightening logo for our long contemplated invasion and conquest of Afghanistan?" After all he was abruptly replaced with Saddam Hussein once the Taliban were overthrown. And while "evidence" is now being invented to connect Saddam with 9/11, the current administration are not helped by "stories in the U.S. press about the vast oil wealth of Iraq which must- for the sake of the free world- be reassigned to U.S. consortiums."
Bold Type Books, 9781560255024, 176pp.
Publication Date: September 6, 2007
About the Author
Gore Vidal is the author of twenty-two novels, five screenplays, more than two hundred essays, and a memoir. Winner of the National Book Award for United Sates: essays 1952-92, Vidal lives in Los Angeles.