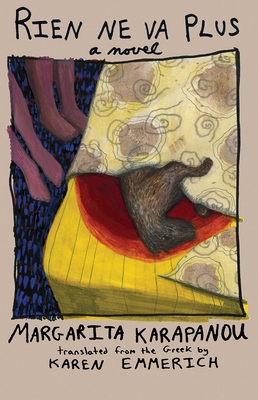 Rien ne va Plus
Paperback

* Individual store prices may vary.
Description
A Simon & Schuster eBook. Simon & Schuster has a great book for every reader.
Praise For Rien ne va Plus…
"Beginning simply, this remarkable tale escalates in conflict and complexity, and proves even more engaging the second time through."-Publishers Weekly?

One of the most haunting, affecting novels I've ever read. Brilliantly translated by Karen Emmerich, Karapanou's words have stayed with me like the afterglow of a flash, or the sting of a punch.
— Jonathan Safran Foer

Margarita Karapanou writes as if riding a wild horse, holding tight to its mane. If she had written in English, today the whole English-speaking world would be talking about her.
— Amanda Michalopoulou

...Karapanou uses pain to make a point...the perverse paradox of fiction, that we seek truth in lies.

"To read these two experimental works is to realize the magnitude of the loss when Greek novelist Margarita Karapanou died quite suddenly in 2008. "Kassandra" ... disquiets, un-eases, disturbs, but intrigues. There is a coolness to its execution, Karapanou's testing of the limited perceptions of an emotionally damaged child who cannot speak for herself compels focus less on harrowing events and more on their translation into lyric story. The same is true of the later work, "Rien ne va plus". Karapanou executes a deft experiment that suspends events between experience and their redesign into fiction ... the narrative is harrowing in its implications but cool to the touch, audacious in its uncompromising commitment to test the integrity of narrative itself. The title- the last call at a roulette table signaling the players are ready to hand their fortunes over to fate- reminds Karapanou's reader of the privilege of narrative: rendering brutal event into elegant design."

Karapanou is one of Greece's most beloved novelists, yet she remains relatively unknown in the US, despite having fans like John Updike and Jonathan Safran Foer. 'Rien ne va Plus', originally published in 1991, has only now been translated into English, just one year after Karapanou's death. A gesture toward the author's continued legacy, this translation delivers the essence of the author's style, a delicate balance between dark and light, haunting scenes cut with sharp ironic wit. Rien ne va plus, the phrase that is delivered in roulette when 'the game becomes fate, ' is a central metaphor for Karapanou because her novel tells the story of the dissolution of a marriage twice: first from the point of view of the wife, the second using a rearrangement of themes from the first. Karapanou's concern is the pain of love- the trauma of giving oneself over to another and the fear of trust- though Karapanou's pleasure is analyzing how these emotions affect the subconscious depths of her characters. These feelings reverberate deeply in Rien ne va plus as the threads that lead the reader from one chapter to the next, wherein the history of the marriage she has created is playfully jumbled. As rien ne va plus connotes this feeling of either/or, win or lose, Karapanou's treatment of fear and love worms its way into the reader's memory with its suggestion that it is emotions that are sturdy, while our lives are what is left to chance.

'Rien ne va Plus' tricks its reader by a rapid mid-point shift from realism to metafiction- but only after the reader has fallen in love with Karapanou's writing, and her inimitable main character...An ars poetica for the craft of fiction, yes, but also an as-yet-undefined genre of writing, in which metafiction, fantasy, Dostoevskian drama, horror, and the most radical of subjectivities by a woman protagonist meld together only to disappear... Larger-than-life characters... the panoply of domestic animals, and an aphoristic section composed of existential meditations all contribute to this fiction of fictions, whose explorations of the nature of love, sadomasochism, and self-discovery invoke the work of Kate Chopin, Mary Gaitskill, and Kate Braverman's Lithium for Medea, in turns.
Clockroot Books, 9781566567725, 192pp.
Publication Date: September 20, 2013
About the Author
Margarita Karapanou was born in Athens in 1946 and raised in Athens and Paris. One of Greece's most beloved authors, she was the author of five novels. Her first novel, Kassandra and the Wolf, was translated into four languages, and was originally published in English by Harcourt Brace Jovanovich in 1974. The Sleepwalker has likewise been translated into four languages, and Karapanou's own French translation of the book, Le Somnambule (Paris: Gallimard, 1987), won the French national prize for the best foreign novel, an honor previously awarded to Lawrence Durrell, Jorge Luis Borges, and Gabriel Garcia Marquez. She died in 2008. NC Germanacos is a Briton of Greek descent, who settled in Greece in 1965. He has translated leading Greek poets and prose writers and written his own poetry. For thirty-three years, in collaboration with his wife, the writer Anne Germanacos, he ran a school he founded for American students on the islands of Kalymnos and Crete. He now shares his time between his home in Crete, where he farms, reads, and writes, and San Francisco, his wife's home town.