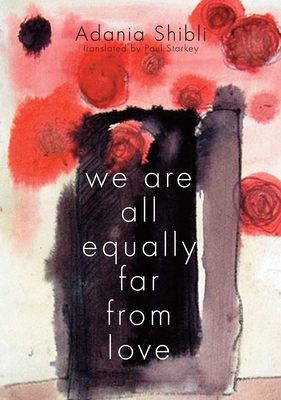 We Are All Equally Far From Love
Paperback

* Individual store prices may vary.
Description
A Simon & Schuster eBook. Simon & Schuster has a great book for every reader.
Praise For We Are All Equally Far From Love…
"This novella is a challenging read; not because of Ms. Shibli's sparing style of writing, which is strikingly different from the traditional Arabic style and quite riveting, but because of the intensely difficult insight it gives on the minutiae of the lives' of others... We Are All Equally Far from Love is not a book to be picked up and put down... [it] demands to be read"

Palestinian author Shibli's poetic yet precise language and nimble characterizations... in this series of interrelated vignettes set in her native land... Shibli (Touch) writes beautifully.

"Adania Shibli's second book We Are All Equally Far From Love confirms her as a rare, challenging talent. It is neither an easy nor always a pleasant read, but it is an extraordinary piece of writing which weaves together melancholia, beauty, violence and brutish physicality in an extended meditation on love and loneliness"with its deft handling of beauty and humor alongside pain and isolation, its multi-colored tones and shifting moods, it becomes a dark, difficult, exhausting but ultimately cathartic exploration of the depths of the human psyche."

We Are All Equally Far From Lovewill confirm [Shibli's] reputation as a formally brilliant literary artist, whose stylistic innovations and bold feel for language affirm contemporary fiction's capacity to be reinvented anew... Sharply individualized and movingly convincing in their raw tenderness and candor, these varying perspectives are finely wrought to the level of poetry, yet retain the sense of issuing directly from the characters' anguished subjectivity."

Shibli's newest book is less cryptic and decidedly more insistent, consisting of eight short stories whose plots initially seem linked but soon disconnect one from another- just as Shibli's lovelorn characters break up or fail to connecteach story is a variation on a theme, the burden of which is the difficulty of finding and sustaining love"[Shibli] has done well to remind us that sometimes when love falters, we need look no further for the reason why than the nearest mirror."
Clockroot Books, 9781566568630, 144pp.
Publication Date: November 7, 2012
About the Author
Adania Shibli, novelist, essayist, and playwright, has twice received the A.M. Qattan Foundation's Young Writer Award–Palestine. Her work has been translated into French, German, Italian, Hebrew, and Korean.
or
Not Currently Available for Direct Purchase