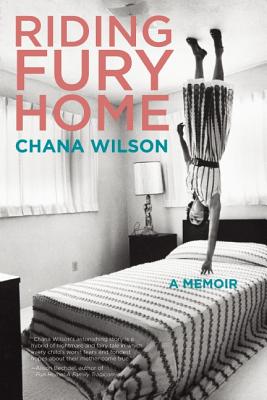 Riding Fury Home
A Memoir
Paperback

* Individual store prices may vary.
Praise For Riding Fury Home: A Memoir…
"Chana Wilson's astonishing story is a hybrid of nightmare and fairy tale in which every child's worst fears and fondest hopes about their mother come true."
Alison Bechdel, author of Fun Home: A Family Tragicomic

"Chana Wilson has done a wonderful thingputting on the page so much grief, fear, and stubborn awe-inspiring endurance. We rarely look closely at complicated relationships like the one she had with her mother, and even more rarely look at how they change over time. This is not heroes and villains, but a layered, intimate exchange in which it seems the child is never quite allowed to be a childand yet still manages to hang onto a carefully constructed loving closeness."
Dorothy Allison, author of Bastard Out of Carolina

"As a work of socially relevant art, this memoir is above reproach. As a historical document, it is both lamentation of a shameful past and evidence of how far we've come."
San Francisco Chronicle

Wilson very accurately captures both the vulnerable but steely-willed child of long ago and the successful women that both she and her mother eventually become. This lovely memoir is a welcome resource for those with mental illness in their families, especially if they have to cope, as Wilson did, with caring for a difficult but much loved parent."Curve Magazine

At times the tension between Wilson and her mother is palpable there are moments in Riding Fury Home that make the chest tighten with a familiar if unnamed fear and there are similarly relatable moments of tenderness."Bust Magazine
Seal Press, 9781580054324, 384pp.
Publication Date: April 3, 2012
About the Author
Chana Wilson is a psychotherapist and a former radio producer and television engineer. She began her career in broadcast journalism as a radio programmer with KPFA in Berkeley, California. Her work hosting the KPFA program A World Wind—in which she interviewed poets, musicians, writers and activists—sparked her desire to work with people on a deeper level. Now a psychotherapist for twenty-four years, she credits the extraordinary courage of her clients for inspiring her to write.

Wilson's writing has appeared in the print journals The Sun and Sinister Wisdom, the online journals Roadwork and Aunt Lute, and in several anthologies. Since the publication of Riding Fury Home, Wilson has become a blogger on the Huffington Post. Her essays have been Editor's Choice on Salon.com.

Since the mid-eighties, Wilson has been playing percussion with the women's samba band Sistah Boom.