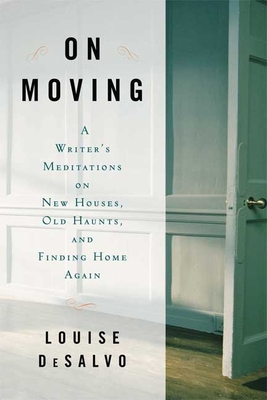 On Moving
A Writer's Meditation on New Houses, Old Haunts, and Finding Home Again
Hardcover

* Individual store prices may vary.
Description
A literary exploration of one of life's most taxing, emotional, and pervasive experiences: moving.

When acclaimed memoirist and scholar Louise DeSalvo sold the house she and her husband had raised their children in and moved to a beautiful new home in Montclair, New Jersey, she was shocked to discover a rash of unexpected emotions interfering with her plans. Suddenly the old, cramped house was paradise, and the new house a barren building with none of the comforts or familiarity of "home." Faced with a sudden disillusionment over her dream house, DeSalvo turned, as she always has, to her favorite writers.

What she found was a treasure trove of material, most of which has seldom been written about before, chronicling the tumultuous and inspiring moves of some of our most beloved literary figures. Percy Shelley, destitute and restless, moved his tired family from one home to another, only to settle in what he came to believe was a haunted house on the Gulf of Spezia (in which he soon drowned). Virginia Woolf, on her hunt for the perfect room of her own, was a real estate hound, and spent years trying to get back to her home in London after a nervous breakdown forced her to relocate to the country. More recently, Mark Doty found selling the house he and his dying lover had spent decades renovating surprisingly freeing as the couple found a new home in which to say goodbye.

DeSalvo discovers that the pain, hope, and turmoil involved in moving have been universal for generations. On Moving mines the hopes, disappointments, memories, and fears that come with that simple yet fundamental part of everyone's lives: moving.
Bloomsbury USA, 9781582345819, 240pp.
Publication Date: March 17, 2009
About the Author
Louise DeSalvo (1942-2018) was the multi-award-winning author of such memoirs as Vertigo, Breathless, and Crazy in the Kitchen: Food, Feuds and Forgiveness in an Italian American Family. She was also a renowned feminist scholar and essayist who wrote about such literary figures as D. H. Lawrence, Henry Miller, and Virginia Woolf. Her book Virginia Woolf: The Impact of Childhood Sexual Abuse on Her Life and Work was named one of the most important books of the twentieth century by the Women's Review of Books.

A professor of English, Louise taught creative writing and literature at Hunter College where she implemented the school's MFA in Memoir program, and she wrote several books on creative writing including Writing as a Way of Healing: How Telling Our Stories Transforms Our Lives and The Art of Slow Writing: Reflections on Times, Craft, and Creativity.
or
Not Currently Available for Direct Purchase