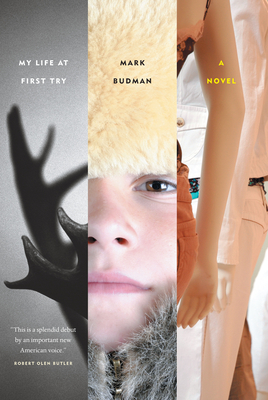 My Life at First Try
Hardcover

* Individual store prices may vary.
Description
This semi-autobiographical debut novel chronicles the life of Alex, born in Siberia in 1950, and his dreams of becoming a writer and of meeting Annie, his distant American cousin. As a child, Alex observes a group of foreign tourists do something that non-drunk Soviet adults seldom do: they laugh. Alex yearns to become one of them--a free and happy foreigner. Those aspirations quickly fade as Alex begins to encounter the absurdities and constraints of living in a society where conformity is institutionalized. Hilarious and sometimes sobering, the book's short chapters chronicle making it through the army, mastering the English language, sex, and meeting the girl of his dreams. In 1980, Alex and his young family finally get the chance to move to America. There he realizes that he is finally a foreigner--not the happy foreigner of his dream, but an alien. Ultimately, Alex finds his own place in the world, despite the fact that having the right to vote for an elephant or an ass does not necessarily guarantee self-fulfillment.
Praise For My Life at First Try…
This lively, semi-autobiographical" debut novel-in-stories chronicles the life of Russian immigrant Alex from his childhood in 1950s Siberia to present-day adulthood in upstate New York. Growing up is a Communist society, Alex humorously questions and consideres the limitations forced upon him. As an adolescent, he sees a picture of his American cousin and, enamored, yearns to immigrate to the United States in the belief that there he will be able to achieve his dreams. With the promise of America continually on the horizon, Alex attends Moscow University, spends time in the army, and finds work where he can. In 1980, Alex, now married with a young daughter, immigrates to a New York suburb. The longer Alex lives in America, however, the more he discovers that the life he imagined may not provide the means of fulfillment he so desires. Readers who enjoy a fast-paced narrative will take pleasure in Alex's inquisitive journey. Booklist

An emigre and raconteur chronicles, in digestible bites, his life in Russia and America.Born in what is today the Republic of Moldova, Budman applies his memories of life in Soviet Russia and his sardonic observations of life in America to his witty semi-autobiographical debut. Utilizing the brevity of "flash fiction," the author lets his fictional doppelganger Alex reveal his story in pocket-sized segments, allowing him little more than a chapter or two for each of his 56 years, capturing both the significant turning points and the poignant minutiae of a lifetime's journey in an insightful running commentary. The youthful narrator is a sex-obsessed young man who knows to shout his opposition to the imperialists even in state-sponsored karate class but who also rightly fears the drudgery of work. "I just finished reading Dante's 'Inferno,' so I recognize Hell right away," he says of his first job. "I've abandoned all hope. I'll be lucky to get out of here alive." As time passes, Alex trains as an engineer, marries a girl named Lyuba and raises two daughters, all the while consumed with a healthy imagination and his ongoing attraction to his cousin Annie, who lives in America. Struggling to support his family, Alex schemes to move them to New York, where he becomes a drone for the HAL Corporation. With success beyond his wildest dreams behind him, the boy who only wanted to get a girl finds himself sad, lonely yet still archly comic, even as he tries to come to terms with a life passing him by. "Writing in a second language is supposed to be a torture," says Alex. "But I enjoy it. Maybe I'm a masochist." A funny, little-seen version of the American dream. Kirkus Reviews

"A mordant dreamer, the protagonist of this first novel is deliciously at odds with his comrades in Russia; in college, the son of Jewish refugees disses a Chechen brute and barely escapes a mugging. Budman's episodic story (inspired by his life as an expatriate) is funniest when he's dissecting Russian culture; after his protagonist resettles in the U.S., he loses much of his edge. Still, this soulful tale about a perpetual outsider marks a debut well worth celebrating." People Magazine
Counterpoint LLC, 9781582434001, 218pp.
Publication Date: November 28, 2008
About the Author
Mark Budman was born and raised in the former Soviet Union. Budman is the publisher of the flash fiction magazine Vestal Review, which didn't prevent him from getting a patent for a device that allows scents to be transmitted by multimedia. He lives in upstate New York with his wife, and has two daughters and one inquisitive male cat.