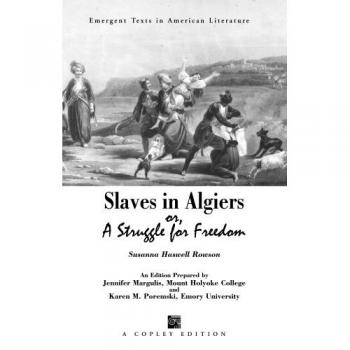 Slaves in Algiers
or, A Struggle for Freedom (Emergent Texts in American Literature)
Paperback

* Individual store prices may vary.
Description
"Slaves in Algiers" is a comedy that centers around European-American slaves captured by Barbary Coast pirates. Inspired in part by Cervantes' tale of the captive in "Don Quixote, " the play begins in the palace of the Dey of Algiers, where a captive young woman, surrounded by luxury, laments her loss of freedom. It then tells the story of the capture, enslavement, and final liberation of several Americans. While prisoners, they fall in love, rediscover lost family members, and narrowly escape being double-crossed. Informed by the political turmoil of the 1790s between Algiers and the newly formed United States, Rowson's play is as much a commentary on American society at the end of the eighteenth century as it is about the peculiar international institution of white slavery.
Copley Publishing Group, 9781583900147, 78pp.
Publication Date: October 1, 2000
or
Not Currently Available for Direct Purchase