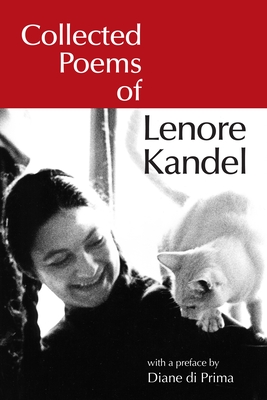 Collected Poems of Lenore Kandel (Io Poetry Series #5)
Hardcover

* Individual store prices may vary.
Description
Jack Kerouac immortalized her in his novel Big Sur. A student of Zen, she hung out with Gary Snyder and Allen Ginsberg and was a speaker at San Francisco's Human Be-In. But Lenore Kandel was no muse or hanger-on; she was a brilliant lyric poet, often unabashedly erotic, and that's where her legacy lies.
 
Collected Poems of Lenore Kandel contains 80 examples of her art, from the "holy erotica" of her early years to later, more contemplative works. Many of the poems have never been published, others only in rare ephemeral publications. Some are explicit, celebrating carnal love as part of the divine. Others are humorous and cover more quotidian subjects. A recurring theme is the "divine animal" duality. The collection includes poems written from the early fifties up until Kandel's death.

The paradox of Lenore Kandel is that despite her prodigious talent, she was one of the least read and critically appreciated of modern poets. Kandel found her voice at a time when the Beat era was giving way to the countercultural age, and though she straddled both eras, it meant that she also fell through the cracks in terms of recognition. Now for the first time the full range of her work appears in one volume.
Praise For Collected Poems of Lenore Kandel (Io Poetry Series #5)…
"The daringly sexual poetry of Lenore Kandel, author of The Love Book, has long been overshadowed by the work of men for whom she served as a muse: Kerouac, Ginsberg, and Snyder among them. This volume brings together 150 plus works by the late poet, many of them never before published."
—Publishers Weekly

"Lenore Kandel was explosive — she was the only woman to give a speech at the 1967 Human Be-In, became immortalized by Jack Kerouac in Big Sur, and just like her buddy Allen Ginsberg, had a pamphlet of her work seized by police because of its extreme erotic content. Kandel was an important female voice in the predominantly male Beat movement and an activist during the counterculture San Francisco of the 1960s… a tribute to Kandel's life is celebrated with a new release, Collected Poems of Lenore Kandel. The book features previously unpublished poetry as well as some of Kandel's more iconic works, such as 'To Fuck with Love,' a descriptive and provocative take on a woman's sexual experience and desire."
—SF Weekly

"There were two wake-robins: Diane Wakoski and Lenore Kandel; the latter wailed out sex-challenge poems larger and louder than the men, who were still into cool."
—Maxine Hong Kingston, from Tripmaster Monkey

"After a flurry of publicity when The Love Book was declared obscene, Lenore Kandel sunk back beneath the frothy surface of public attention. She lay there on the streambed, a gold nugget gleaming in the shadows, for the diligent to find. Her modesty was immense, and her reticence to grandstand consigned her unfairly to the shadows. Now she is 'drifting down the wind as light,' and we are all illuminated by her."
—Peter Coyote, actor and author of Sleeping Where I Fall

"With her fresh, fleshly outspokenness and clear-speaking sensuousness, Lenore Kandel writes directly to us. She makes the shapes, the graces, the tastes, the fears, of her moment—and as ever, they are ours. She is here."
—Michael McClure, poet and author of Scratching the Beat Surface

"There is a tradition in poetry—one that stretches back to its beginnings—that conflates sensuality, ecstasy, and the divine. Lenore carried this tradition for my generation and expounded it with a startling immediacy. She never spends an instant telling you how to get there; she takes you there, and shakes you until you experience the condition she describes."
—Freeman House, author of Totem Salmon

"The publication of The Collected Poems of Lenore Kandel, published by North Atlantic Books, is a major milestone in the history of Beat and I'm here to report, after finishing the volume, that it is everything an enthusiastic reader might anticipate and much, much more."
—Lilliput Review

"When you think of subversive 1960s beat poets, Allen Ginsberg and Jack Kerouac likely spring to mind first. But controversial poet Lenore Kandel, known for her sex positivity and the obscenity charges brought against her for her erotic works, was a pivotal female face of the movement. In 1967, a jury deemed Kandel's short pamphlet The Love Book, which contained four of her poems, obscene. (Specifically under fire: the provocative work "To F*** with Love.") Now, a new book, Collected Poems of Lenore Kandel, showcases more than 150 of the late artist's pieces — some controversial, all beautiful. Here's to you, Lenore: Thank you for speaking for for women way back when."
—She Knows

"Kandel's poetry takes the form of an underground history lesson for the sheltered, showing the passion force of life questioningly. These exuberant poems can seem retrogressive, since Kandel's witnessing was so extremely present and precise, and times have changed, and all the more remarkable for the presence and precision of their witnessing. North Atlantic Books has done a great service for posterity by publishing this collection."
—Examiner.com

"Daring to break cultural norms with her work, Lenore Kandel has become quite the legend in the poetry world. Collected Poems of Lenore Kandel is a poetry collection compiling the best of the late poet's work as she attacked the ideals of her era and continued pushing her original style all throughout her life. Collected Poems of Lenore Kandel is an ideal addition to any literary poetry collection, highly recommended."
—Midwest Book Review

"If you like Allen Ginsberg, you will like Lenore Kandel. If poems of hers like 'Now Vision' and 'First They Slaughtered the Angels' were mistakenly printed in Ginsberg's Collected instead of Kandel's, I don't think anyone would look twice. Kandel's is a poetry that does not champion compression, does not care about that mountain of ice under the tip of the iceberg, does not suggest or imply or gesture toward. Kandel is a pure excessivist. Her poetry is about total inclusion, utter exposure, the fullest frontal view of a thing. It can't be put more clearly than Kandel herself puts it in her Intro: 'To compromise poetry through expediency is the soft, small murder to the soul.'"
—Litseen
North Atlantic Books, 9781583943724, 264pp.
Publication Date: April 10, 2012
About the Author
Lenore Kandel (1932–2009) was born in New York City and wrote poetry from childhood. The author of The Love Book (1966) and Word Alchemy (1967), she died at the age of 77.
or
Not Currently Available for Direct Purchase