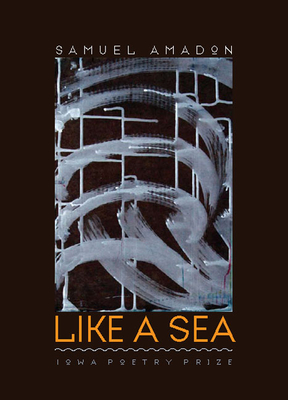 Like a Sea (Iowa Poetry Prize)
Paperback

* Individual store prices may vary.
Description
   Drawing equally from Wallace Stevens, Gertrude Stein, John Berryman, and Robert Frost, Samuel Amadon's award-winning Like a Sea is a collection of poems where personality is foregrounded and speech is both bizarre and familiar. Central to this weirdly talky work is "Each H," a sequence of eleven monologues and dialogues wherein an unknown number of speakers examine their collective and singular identities while simultaneously distorting them. From a sequence of pared-down sonnets to a more traditional lyric to a procedural collage inspired by J. D. Salinger, Ezra Pound, Robert Lowell, Walter Benjamin, Jane Kenyon, Joris-Karl Huysmans, Primo Levi, Eugenio Montale, and Edwin Arlington Robinson, Like a Sea is a book of significant variation and originality.
     Amadon's electric collection begins with the line "I could not sound like anyone but me," and through a wide range of forms and styles and voices he tests the true limits of that statement. The image of a half-abandoned Hartford, Connecticut, remains in the background of these poems, casting a tone of brokenness and haplessness. Ultimately Amadon's poems present the confusion and fear of the current moment, of Stevens's "river that flows nowhere, like a sea," equally alongside its joyful ridiculousness and possibility. Rather than create worlds, they point out what a strange world already exists.
Praise For Like a Sea (Iowa Poetry Prize)…
"On the shore between tragedy and comedy, the evocative and broken language of Like aSea has the energy of someone trying to sing a hundred things at once and the sorrow of song vanishing as it's made. Never still, each line surges and bulges beyond the decorums of conventional grammar, and even the quiet passages have a dynamic, rambunctious originality. This book is refreshing as wave-crash and as forceful as undertow."—Dean Young
"The radical new idiom and sleights of logic in Samuel Amadon's Like a Sea suggest a legacy of poetic innovators as disparate as Gertrude Stein and John Berryman, while its commitment to following the mind's foul work and hard play through the world it finds itself in—where 'everything is a surface passing'—is boldly, passionately traditional. The mind in question happens to be as quirky, intelligent, wise, hopeful, and hilarious as they come, and Like a Sea is a shining example of what a mind like that can do when it steers true to itself and its calling. Amadon's is among the most audacious, memorable, and uniquely beautiful debuts in recent memory."—Timothy Donnelly, author, The Cloud Corporation
University Of Iowa Press, 9781587298608, 100pp.
Publication Date: March 15, 2009
About the Author
Samuel Amadon was born and raised in Hartford, Connecticut. His poems have appeared in the American Poetry Review, Denver Quarterly, Tin House, Boston Review, VOLT, and elsewhere. A recipient of fellowships and scholarships from the Fine Arts Work Center in Provincetown and the Bread Loaf Writers Conference and the author of the chapbooks Advice for Young Couples, Goodnight Lung, and Each H,he is currently a Ph.D. student at the University of Houston and the co-editor of Projective Industries, a chapbook press.
or
Not Currently Available for Direct Purchase