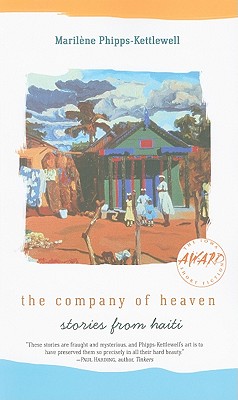 The Company of Heaven
Stories from Haiti (Iowa Short Fiction Award)
Paperback

* Individual store prices may vary.
Description
Marilene Phipps-Kettlewell's award-winning stories transport you to Haiti to a lush, lyrical, flamboyant, and spirit-filled Haiti where palm trees shine wet with moonlight and the sky paints a yellow screen over your head and the ocean sparkles with thousands of golden eyes and keep you there forever. Her singular characters mysteriously address the deeper meanings of human existence. They also dream of escape, whether from themselves, from family, from Vodou, from financial and cultural difficulties and the politicians that create them, or from the country itself, but Haiti will forever remain part of their souls and part of the thoughts of her readers.
Some characters do achieve escape through the mind or through sea voyage escape found by surrendering to spectacular fantasies and madness and love, bargaining with God, joining the boat people. Marie-Ange Saint-Jacques's mother sacrifices everything to ensure her daughter's survival on a perilous boat trip, Angelina waits to fly away to Nou Yok, Vivi creates her own circus with dozens of rescued dogs, Gustave dies a martyr to his faith. Throughout, the I who moves in and out of these dream-filled stories embraces the heavenly mysteries found in the room where all things lost are stored with grace.
We begin our journey to Haiti with images of a little girl in a pink bedroom reading by candlelight a book about the life of Saint Bernadette, surrounded by the bewitching scents, sounds, and textures of a Caribbean night. Each story stands by itself, but some characters can be followed from one story to another through the transformations they undergo as a result of their life experiences. In this way, the collection can be read as one story, the story of a family trapped in a personal and cultural drama and the story of the people with whom the family interacts, themselves burdened by the need to survive within Haiti's rigorously class-determined society and blessed by their relationship to the company of heaven in which they live and for which they are destined.
Praise For The Company of Heaven: Stories from Haiti (Iowa Short Fiction Award)…
"Marilène Phipps-Kettlewell's The Company of Heaven heralds the fiction debut of a brilliant and insightful storyteller. With the sensitivities of the poet and visual artist that she is, Phipps-Kettlewell brings us these lyrical, funny, quirky, and memorable stories from the Haiti of both near and far. A book not to be missed, The Company of Heaven takes us to both heaven and hell and many places in between, but always with innovation, honesty, and grace."—Edwidge Danticat
"Reading Marilène Phipps-Kettlewell's The Company of Heaven is like happening on a book of psalms transcribed from some secret, fantastic, harrowed heart, somehow mineralized into language and somehow preserved for us to read. I was struck again and again by the lyrical, lamented, 'lush but rotting' but somehow also miraculously upheld world laid out before me. These stories are fraught and mysterious, and Phipps-Kettlewell's art is to have preserved them so precisely in all their hard beauty."—Paul Harding, author, Tinkers
"These are beautiful, richly textured stories; 'painterly' is the word that describes them best. What might be unbearable sadness after the devastation so recently suffered by Haiti becomes, in Marilène Phipps-­-Kettlewell's hands, a testament of hope and resilience, of spirit and celebration. Like the people they are about, these stories will last."—Henry Louis Gates, Jr.
University of Iowa Press, 9781587299216, 190pp.
Publication Date: October 28, 2010
About the Author
Painter, poet, and short story writerMarilene Phipps-Kettlewell was born and grew up in Haiti. She has held fellowships at the Guggenheim Foundation, the Bunting Institute, the W.E.B. Du Bois Institute for African and African American Research, and the Center for the Study of World Religions at Harvard University. In 1993, she won the Grolier prize for poetry. Her collection "Crossroads and Unholy Water" won the 1999 Crab Orchard Poetry Prize. Her short fiction has been published in "Callaloo," the "Crab Orchard Review," and the "New Arcadia Review "as well as "The Best American Short Stories 2003.""
or
Not Currently Available for Direct Purchase