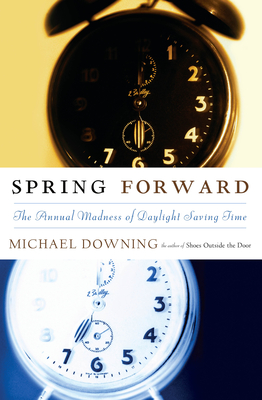 Spring Forward
The Annual Madness of Daylight Saving
Hardcover

* Individual store prices may vary.
Other Editions of This Title:
Paperback (2/1/2006)
Description
Michael Downing is obsessed with Daylight Saving, the loopy idea that became the most persistent political controversy in American history. Almost one hundred years after Congressmen and lawmakers in every state first debated, ridiculed, and then passionately embraced the possibility of saving an hour of daylight, no one can say for sure why we are required by law to change our clocks twice a year. Who first proposed the scheme? The most authoritative sources agree it was a Pittsburgh industrialist, Woodrow Wilson, a man on a horse in London, a Manhattan socialite, Benjamin Franklin, one of the Caesars, or the anonymous makers of ancient Chinese and Japanese water clocks. Spring Forward is a portrait of public policy in the 20th century, a perennially boiling cauldron of unsubstantiated science, profiteering masked as piety, and mysteriously shifting time-zone boundaries. It is a true-to-life social comedy with Congress in the leading role, surrounded by a supporting cast of opportunistic ministers, movie moguls, stockbrokers, labor leaders, sports fanatics, and railroad execs.
Counterpoint LLC, 9781593760533, 202pp.
Publication Date: March 3, 2005
About the Author
Michael Downing's novels include the national bestseller Perfect Agreement, named one of the 10 Best Books of the year by Amazon and Newsday, and Breakfast with Scot, a comedy about two gay men who inadvertently become parents. An American Library Association honor book, Breakfast with Scot was adapted as a movie that premiered at the Toronto International Film Festival. His nonfiction includes Shoes Outside the Door: Desire, Devotion, and Excess at San Francisco Zen Center, hailed by the New York Review of Books as a dramatic and insightful narrative history of the first Buddhist monastery outside of Asia, and by the Los Angeles Times as a highly readable book. His essays and reviews appear in the New York Times, Washington Post, Wall Street Journal, and other periodicals. Michael teaches creative writing at Tufts University. He and his partner have lived together in Cambridge for more than 25 years.
or
Not Currently Available for Direct Purchase