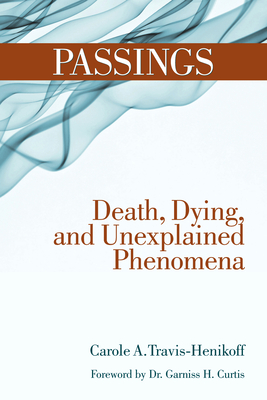 Passings
Death, Dying, and Unexplained Phenomena
Hardcover

* Individual store prices may vary.
Description
From dream research and global belief systems to such unexplained phenomena as bright lights, prescient dreams, near-death and out-of-body experiences, Passings delves into every aspect of the end of life. Taking a scientific and anthropological approach, Carole A. Travis-Henikoff looks at how other cultures deal with death, how diverse kinds of death are treated differently, and how belief systems set the tone for grieving.
In addition to the use of science and anthropology, Travis-Henikoff includes both her own personal experiences with the end of life as well as the stories of others who help illustrate the striking realities of passing. Beginning with the many deaths that occurred during Travis-Henikoff's childhood, Passings moves into an up-close-and-personal look at the tragic three-and-a-half-year period when Travis-Henikoff lost her father, husband, grandmother, mother, and daughter.
By combining the personal, the scientific, and the unexplained, Passings offers a comprehensive investigation into the end of life that allows readers to both examine their own individual beliefs about the subject and to gain a better understanding about how we as a species cope with death and dying.
Santa Monica Press, 9781595800480, 324pp.
Publication Date: February 1, 2010
About the Author
Carole A. Travis-Henikoff is the author of Dinner with a Cannibal, which was honored by Choice magazine as one of its "Outstanding Academic Titles" of 2008. As an independent scholar specializing in paleoanthropology, she has worked with the Getty Conservation team on the preservation of artifacts at the Egyptian Museum in Cairo, Egypt, and participated in an archeological dig alongside J. Desmond Clark, Tim White, Nicholas Toth, and Kathy Schick under the auspices of the Institute of Human Origins. She sits on the board of directors for the Stone Age Institute, and has given lectures on paleoanthropology at Loyola University (Chicago) and Rush University Medical Center (Chicago). She divides her time between Chicago, Illinois, and Jackson Hole, Wyoming. Dr. Garniss H. Curtis is Professor Emeritus in the Department of Geology & Geophysics at the University of California, Berkeley and Founder of the Berkeley Geochronology Center. He lives in Berkeley, California.