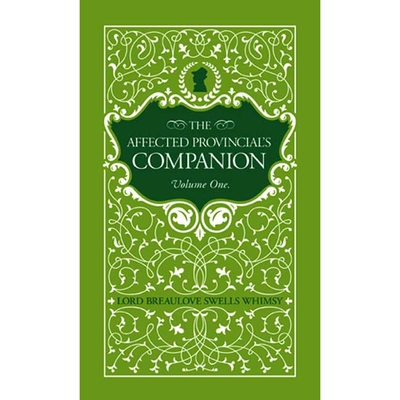 The Affected Provincial's Companion, Vol. 1
Hardcover

* Individual store prices may vary.
Description
A far more civilized, beautiful life now lies within the grasp of your trembling fingertips
Gentle reader: do you tire of the meager offerings set forth by our humdrum age? Do you seek to cultivate blooms of refinement and joy in your life's garden? Lord Whimsy, as befitting his office as Affected Provincial, humbly offers himself as a guide to those who wish to transcend the banalities of modern existence. A diverse and hilarious collection of treatises, insightful essays, philosophical diagrams, saucy poetry and other amusing trifles,
The Affected Provincial's Companion
will inspire you to transform yourself into a living work of art, thus setting you upon a course towards that misty, faraway shore known to the ancients as Enchantment. The perils of sportswear, self-defense for sissies, the proper grooming of facial hair, and how to become a bon vivant--all this and much more may be found between the shimmering covers of this sleek and utterly beguiling volume.
Praise For The Affected Provincial's Companion, Vol. 1…
"Written in something approximating the McSweeney's style, this collection of essays, charts, and assorted silliness is deeply amusing."--USA Today
"[Lord Whimsy] is a splendid raconteur and a canny quillsman…we are confident that you will find this dandy's manicured musings a bracing tonic against the enervating drudgery of the modern world." --Yahoo.com
Bloomsbury USA, 9781596911413, 128pp.
Publication Date: August 8, 2006
About the Author
Whimsy (as he is often called) is much more than a mere pen name, for he walks among us as a living embodiment of charm. He has earned a loyal following through his published articles, readings and public appearances, and has packed cafes, bookstores, and universities with his You Lack My Refinement tour, illuminating the Former Colonies with the Light of Whimsy. When not defending the Flower of Civilization against bruised petals, he lives the life of a country squire in the leafy, rural hamlet of New Egypt, New Jersey. Rest assured, gentle reader: Whimsy loves you all.
or
Not Currently Available for Direct Purchase