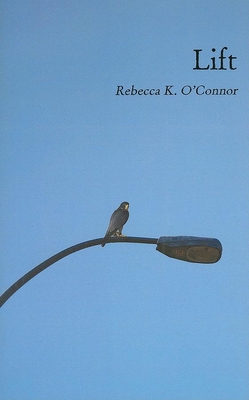 Lift
Paperback

* Individual store prices may vary.
Description
The culmination of a ten-year career in falconry, Lift is a memoir that illustrates the journey and life lessons of a woman navigating a man's ancient sport. Captivated by a chance meeting with a falconer's peregrine as a child, the indelible memory eventually brings the author's life full circle to flying a peregrine of her own. Exploring themes of predator and prey, finding tribe, forgiveness and femininity, the memoir asks universal questions through a unique backdrop.  Lift illustrates the beauty and meaning the sport of falconry can add to a falconer's life, echoing the challenges and triumphs of being human.
Praise For Lift…
Rebecca O'Connor writes that falconry is a religion; she has found a new and true believer in this vegetarian soul. I love how she explores both the pain and majesty of the natural world and the pain and majesty of a woman's heart. Lift is a thrilling, moving read.
—Gayle Brandeis, author of The Book of Dead Birds and Self Storage
Lift is not simply the story of one woman's desire to understand and control her world through the art of falconry--it is a story of holding on, of letting go, of recognizing and allowing the competing forces in our lives to sustain and shape us.  Predator and prey, what is loved and what is hated, what we must accept and what we must reject--each of these dichotomies becomes Rebecca O'Connor's quarry.  This memoir is a beautiful and poignant story of love, loss, and redemption.  In a landscape that tests her ability to withstand the everyday vigors of survival, O'Connor lets the bird of her heart fly free.
—Kim Barnes, author of In the Wilderness: Coming of Age in Unknown Country, 1997 Pulitzer Finalist

Rebecca O'Connor is an extraordinary writer who has written a memoir like no other. She beautifully braids the stories of an agonizing childhood, a daughter's forgiveness, and a tempestuous love affair with a predatory bird. Like her peregrine falcon, O'Connor's prose is savage and graceful, her narrative filled with breathtaking turns. I could not put this book down—and when I finished, I couldn't wait to read it again. Lift soars.
—Sy Montgomery, Author of the national bestseller, The Good Good Pig
Red Hen Press, 9781597094603, 208pp.
Publication Date: November 1, 2009
About the Author
Rebecca K. O'Connor had published essays in South Dakota Review, Iron Horse Literary Review, Los Angeles Times Magazine, West, divide, and was a Pushcart Nominee for the 2008 Prize. Her novel, Falcon's Return was a Holt Medallion Finalist for best first novel and she has published numerous reference books on the natural world. She has an MFA in Creative Writing and Writing for the Performing Arts from the University of California, Riverside.
     As a professional animal trainer, O'Connor has worked with a variety of exotic animals in zoos and private facilities around the United States and abroad. She has been a falconer for more than a decade and is a nationally known parrot behaviorist. Her book A Parrot for Life: Raising and Training the Perfect Parrot Companion was published in 2007 by TFH and went into a second printing in the first six months. She is also a nationally sought after lecturer at parrot clubs and parrot festivals.
     In all of O'Connor's work she strives to illuminate or foil the human condition through the animals that surround us. Whether it is to give a science-based lecture, write a serious how-to book or crafting deeply personal prose, the foundation of everything in her life is a love for animals. She hopes that her life's work will help people understand the animals (including other humans) that surround them and relish their relationships.
or
Not Currently Available for Direct Purchase