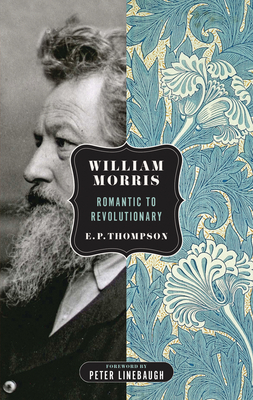 William Morris
Romantic to Revolutionary
Paperback

* Individual store prices may vary.
Description
This biographical study is a window into 19th-century British society and the life of William Morris—the great craftsman, architect, designer, poet, and writer—who remains a monumental and influential figure to this day. This account chronicles how his concern with artistic and human values led him to cross what he called the "river of fire" and become a committed socialist—committed not only to the theory of socialism but also to the practice of it in the day-to-day struggle of working women and men in Victorian England. While both the British Labor Movement and the Marxists have venerated Morris, this legacy of his life proves that many of his ideas did not accord with the dominant reforming tendencies, providing a unique perspective on Morris scholarship.
Praise For William Morris: Romantic to Revolutionary…
"Two impressive figures, William Morris as subject and E. P. Thompson as author, are conjoined in this immense biographical-historical-critical study."  —Peter Stansky, New York Times

"An absorbing biographical study. . . . A glittering quarry of marvelous quotes from Morris and others, many taken from heretofore inaccessible or unpublished sources."  —Walter Arnold, Saturday Review

"Thompson's is the first biography to do justice to Morris's political thought and so assemble the man whole. . . . It is not only the standard biography of Morris; it makes us realize, as no other writer has done, how completely admirable a man this Victorian was—how consistent and honest to himself and others, how incapable of cruelty or jargon and, above all, how free."  —Robert Hughes, Time magazine

"The massive text of this volume, which revolutionized Morris studies and outraged conservative (and purely literary) specialists, compels the reader to take on complicated matters bit by bit, almost day to day, sinking into Morris' life, letters, and milieu. Reading the book can be overwhelming but will be rewarding, not only for the subject but also for the author himself, as we read him through the study of his favorite romantic." —www.RainTaxi.com
PM Press, 9781604862430, 848pp.
Publication Date: March 7, 2011
About the Author
E. P. Thompson was an English historian, socialist, and author of Making of the English Working Class. Peter Linebaugh is a social historian and a professor at the University of Toledo. He is the author of London Hanged: Crime and Civil Society in the Eighteenth Century. He lives in Toledo, Ohio.