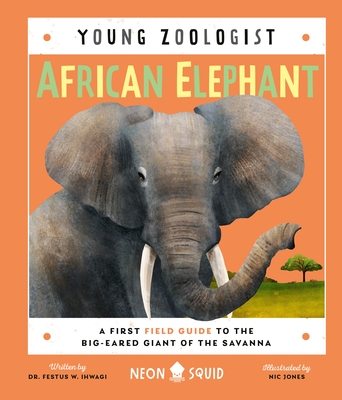 African Elephant (Young Zoologist)
A First Field Guide to the Big-Eared Giant of the Savanna
Hardcover

* Individual store prices may vary.
Description
Head on safari to the grasslands of Africa to study African elephants in this beautiful nonfiction field guide for kids.

You might know that African elephants are the largest land animals on Earth, but there's so much more to learn about these tusked creatures. Turn the pages to find out why the grandmother is in charge of an elephant family, and why big ears help elephants cool down! Meet a baby elephant as it takes its first steps, and discover how to tell the difference between an African elephant and an Asian elephant. The book also looks at the conservation challenges these iconic animals face due to climate change and ivory poaching.

Written by elephant expert Dr. Festus W. Ihwagi and featuring stunning illustrations by Nic Jones, African Elephant (Young Zoologist) is part of an exciting new series of animal books from Neon Squid aiming to inspire the next generation of biologists and conservationists.

Also available: Humpback Whale, Giant Panda, Emperor Penguin
Neon Squid, 9781684492527, 32pp.
Publication Date: September 6, 2022
About the Author
Dr. Festus W. Ihwagi grew up on the slopes of Mount Kenya with elephants for his neighbors. Today he is a conservation biologist who works for Save the Elephants.

Nic Jones is an illustrator from the North West of England who draws inspiration from the animal world, creating beautiful digital illustrations that evoke the tactile feel of fur and feathers through her use of painterly textures.