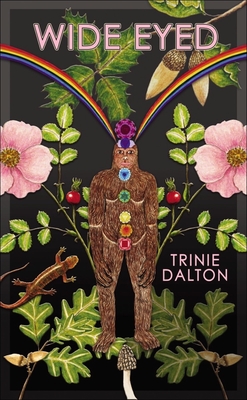 Wide Eyed (Little House on the Bowery)
Paperback

* Individual store prices may vary.
Description
"Trinie Dalton's voice is so charming in these stories and they fly right by, so it takes a little time to realize how deftly she is talking about death and sex and fear and love and fur and slumber parties, how lightly she touches upon heaviness, making an imprint so gentle you don't know it's there until later, when the story floats back up in your memory, light as a butterfly or a blood-oil lilypad in the bath." --Aimee Bender "Trinie Dalton is as radically original a young writer as I've ever come across: a post-punk, post-apocalyptic, post-everything sensibility, casting spells of willed innocence against the powers of darkness she knows terrifyingly well." --David Gates "These charming stories vibrate with innocence and awe. Trinie Dalton is an effortless purveyor of wonder, strangeness, and love. She is a writer of high spirits and unguarded vision, and this debut collection is an absolute pleasure to read." --Ben Marcus "In Wide Eyed, a wonderfully eccentric and vibrant collection, Trinie Dalton showcases her ability to put a fresh spin on the world, leading the reader into places never explored--sometimes dreamlike, sometimes nightmarish, always riveting. Her vision is wholly unique and memorable." --Jill McCorkle In Trinie Dalton's tweaked vision of reality, psychic communications between herself and Mick Jagger, The Flaming Lips, Marc Bolan, Lou Reed, and Pavement are daily occurrences. Animals also populate this book; beavers, hamsters, salamanders, black widows, owls, llamas, bats, and many more are characters who befriend the narrator. This collection of stories is told by a woman compelled to divulge her secrets, fantasies, and obsessions with native Californian animals, glam rock icons, and horror movies, among other things. With a setting rooted in urban Los Angeles but colored by mythic tales of beauty borrowed from medieval times, Shakespeare, and Grimm's fairy tales, Wide Eyed makes the difficulties of surviving in a contemporary American city more palatable by showing the reader that magic and escape is always possible. Stories include, Hummingbird Moonshine, in which the narrator's frustrated hunt for authentic religion in botanicas and science books culminates in a spiritual connection made with a hummingbird. In Oceanic, she resolves to marry a manatee after a drunken pre-party for her best friend's wedding. In Tiles, four vignettes about bloody accidents in tiled bathrooms intermingle with scenes from Dalton's favorite scary movies. Featuring oddball prose in the traditions of Dalton's literary heroes--Denton Welch, Robert Walser, and Jane Bowles--these stories have a dreamy, imaginative quality that reveal a peculiar state of mental ecstasy. To be inside the mind of Trinie Dalton is to be escorted into bliss.

Akashic Books, 9781888451863, 170pp.
Publication Date: October 1, 2005
About the Author
Trinie Dalton grew up in Los Angeles, and has an MFA from Bennington Writing Seminars. She writes music, book, and art criticism in addition to fiction. The book she co-edited for McSweeney's, Dear New Girl, is also forthcoming. Dennis Cooper is the author of 'The George Miles Cycle, ' an interconnected sequence of five novels published in the US by Grove Press and translated into fourteen languages. His most recent novel is God, Jr. (Grove, 2005). He lives in Los Angeles.