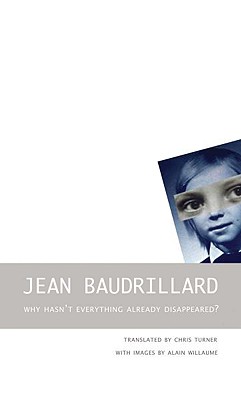 Why Hasn't Everything Already Disappeared? (The French List)
Hardcover

* Individual store prices may vary.
Description
"Behind every image, something has disappeared. And that is the source of its fascination," writes French theorist Jean Baudrillard in Why Hasn't Everything Already Disappeared? In this, one of the last texts written before his death in March 2007, Baudrillard meditates poignantly on the question of disappearance. Throughout, he weaves an intricate set of variations on his theme, ranging from the potential disappearance of humanity as a result of the fulfillment of its goal of world mastery to the vanishing of reality due to the continual transmutation of the real into the virtual. Along the way, he takes in the more conventional question of the philosophical "subject," whose disappearance has, in his view, been caused by a "pulverization of consciousness into all the interstices of reality."
Interspersed throughout the text are 15 photographs by Alain Willaume that help illustrate Baudrillard's argument. Baudrillard insists that with disappearance, strange things happen—some things that were eliminated or repressed may return in destructive viral forms—yet at the same time, he reminds us that disappearance has a positive aspect, as a "vital dimension" of the existence of things.
Praise For Why Hasn't Everything Already Disappeared? (The French List)…
"The prose makes frequent recourse to art and in particular photography to exemplify the distance between the human and the natural. . . . The text . . . offers, by virtue of its brevity, a good insight into the provocative theorist."
— Publishers Weekly

"Baudrillard's readers will understand the appearance of Why Hasn't Everything Already Disappeared? as an important occasion that will have a powerful impact on contemporary social theory. We should appreciate it not as a farewell essay, but as a practically spiritual text on the appearance, disappearance and reappearance of everyday objects. Consequently, if we seek to read his work accurately, we have to do so in view of its disappearance."
— John Armitage

"One of his last paradoxical meditations before his death in 2007. It has a gently apocalyptic flavour, with a vision of humans making themselves disappear through technological upgrades and artificial intelligence. Contemporary culture is full of ghosts. . . . The book is beautifully produced."
— Steven Poole
Seagull Books, 9781906497408, 72pp.
Publication Date: November 15, 2009
About the Author
Chris Turner is a translator and writer living in Birmingham, UK. He has translated more than eighty books from French and German.
or
Not Currently Available for Direct Purchase