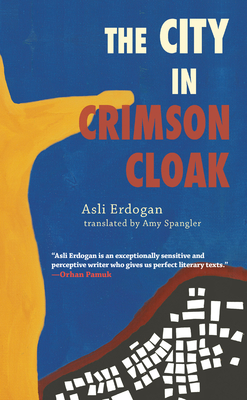 The City in Crimson Cloak
Paperback

* Individual store prices may vary.
Description
From an "exceptionally sensitive and perceptive" Turkish writer and human rights activist (Orhan Pamuk, winner of the Nobel Prize in Literature), the captivating story of a writer whose own autobiographical novel forces her to come to terms with the dichotomy of the city she once loved: Rio de Janeiro.

Özgür is a young woman on fire: poor, hungry, and on the verge of a mental breakdown. She has only one weapon: her ability to write the city that has robbed her of everything, Rio de Janeiro. Through the reading of the bits and pieces of Özgür's unfinished eponymous novel, with its autobiographical protagonist named Ö, Özgür's story begins to emerge.

As Özgür follows Ö through the shanty towns, Condomble rituals, and the violence and sexuality of the streets of Rio, the reader follows Özgür as she searches for a way to make peace with life, a route to catharsis. Together, the two concentric novels reveal the blurry borderline between the two Rio's -- one a metaphor for death, one a city of life. A major hit when it was released in Turkey and Europe, The City in Crimson Cloak is brilliantly evocative and wildly experimental, doing for Rio what Joyce did for Dublin.
Soft Skull, 9781933368740, 256pp.
Publication Date: May 28, 2007
About the Author
One of Turkey's most challenging authors, Asli Erdogan has been a critical success both in Turkey and Europe. A former physicist who abandoned her scientific career for a literary one, Erdogan's first book, the novel The Shell Man was published in 1994. Erdogan's second novel, The City in Crimson Cloak, established her as a writer of formidable literary merit, gathering accolades abroad.

From 1998 to 2000, Erdogan, a human rights activist and former Turkish representative of PEN's Writers in Prison Committee, wrote a column for the Turkish newspaper Radikal entitled "The Others." Her articles were later collected and published as the book When a Journey Ends.