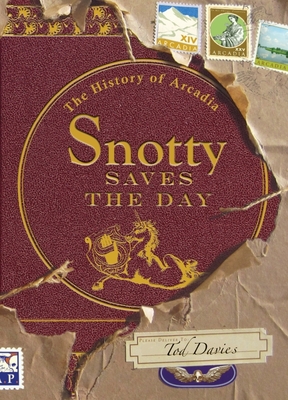 Snotty Saves the Day (Paperback)
The History of Arcadia
Exterminating Angel Press, 9781935259077, 185pp.
Publication Date: April 19, 2011
* Individual store prices may vary.
Description
"Look inside this world and find wonder." --KATE BERNHEIMER, editor of My Mother She Killed Me, My Father He Ate Me and author of The Girl Who Wouldn't Brush Her Hair A book arrives by Owl, left under an old fir tree in the snow. With it, a mysterious message: another world's scientists have discovered the laws of the universe are found in--fairy tales. Is it true? Snotty--the unlikely hero of this tale--is a streetwise adolescent mastermind transported to a mystical realm where the fate of the world rests on discovering who he really is. As Snotty's perceptions of might and right are upended, the scholarly footnotes point toward a deeper truth--that in the endless fight against evil, the toughest warriors come from the most despised group of all: the smallest, the poorest, the funniest, the snottiest. A fantastic adventure story, smart political allegory, and philosophical treatise, this is a book to be savored by adults of all ages. The History of Arcadia series tells the story of a world that was literally formed by a story, by one person discovering and claiming who she really is . . . and of the subsequent events that led first to a deceptively happy world, then to an inevitably tragic outcome, and finally to a slow rebuilding of the world on foundations more deeply and thoughtfully laid. Each book includes bonus Arcadian legends and fairy tales, and relates how the manuscript crossed the barriers between Arcadia and our own world to arrive at Exterminating Angel Press. The first two novels in the series are Snotty Saves the Day and Lily the Silent. Tod Davies lives with her husband and her two dogs at the foot of the Rocky Mountains, in Boulder, Colorado and in the alpine valley of Colestin, Oregon, where she discovered Snotty Saves the Day, the first Arcadian manuscript. Illustrator Gary Zaboly is the author and illustrator of The Barack Obama Coloring Book (Dover Publications) and many books on American military and frontier history. He lives with his wife Cora in Riverdale, New York, overlooking the Hudson River.
About the Author
Tod Davies is the author of Snotty Saves the Day and Lily the Silent, both from The History of Arcadia series, and the cooking memoirs Jam Today: A Diary of Cooking With What You've Got and Jam Today Too: The Revolution Will Not Be Catered. Unsurprisingly, her attitude toward literature is the same as her attitude toward cooking--it's all about working with what you have to find new ways of looking and new ways of being, and in doing so, to rediscover the best of our humanity. Davies lives with her husband and their two dogs, in the alpine valley of Colestin, Oregon, and at the foot of the Rocky Mountains, in Boulder, Colorado.
Praise For Snotty Saves the Day: The History of Arcadia…
The most audacious and unusual book I have read this year. Framed in a we found this on our doorstep" ala Spiderwick sort of way, it is ostensibly forwarded to the publisher by a professor from the land of Arcadia. . . . If you are intrigued by how [fairy tales] are manipulated with such ease by pop culture mavens and movie makers . . . you will find the cheekiness of Davies' story to be wildly appealing."Bookslut Summer Reading List
Awesome . . . There's plenty of humor in the book. . . . And the best is the truthwhat Is, as the book calls itSnotty discovers about himself. He doesn't just see the error of his old ways; he re-becomes an entirely different person. And that possibility, that abilitythat we all might re-become what we were born to beraises a wonder, a sympathy with the idea of changing the world'" that beats louder than does a superficially bleeding heart."Nervous Breakdown
A smart, funny, and thought-provoking read for readers of all ages, Snotty Saves the Day has me eagerly awaiting its sequel."Largehearted Boy
Fairy tales and Biblical stories come true in this amusing debut mash-up of folklore and Christian allegory. . . . Readers with a fantasy bent will note the traditional fairy tale elements (there are teddy bears and they do picnic), as those with Christian sensibilities will know to pronounce Luc' with a soft c'. Dressed up with footnotes, scholarly introductions and a bibliography, as well as lovely line drawings by Gary Zaboly, Snotty's story seeks to prove that fairy tales rank with quantum mechanics in their ability to establish parallel worlds."Publishers Weekly
Fascinating . . . A quirky, intelligent, and imaginative read for mid-teens and up . . . anyone who enjoys reading or studying fairy or folk tales and fantasy will especially enjoy this."ForeWord Reviews
"Ms. Davies blends folklore, fairy tales, fantasy, and even oral traditionand does so brilliantly . . . Snotty Saves the Day is a book for mature or precocious teens, for fantasy and tale-within-a-tale lovers, and for thoughtful adults who seek the wonder and optimism so badly needed in today's times."New York Journal of Books
The Arcadians know that real wisdom is found in fairy tales. Look inside this world and find wonder. Thank goodness for Tod Davies, who knows we need fairy tales."KATE BERNHEIMER, editor of My Mother She Killed Me, My Father He Ate Me and Fairy Tale Review
Blending the magic of fairy tales with the great existential mysteries, Tod Davies leads us into a phantasmagorical world that resurrects the complex lore of times past with vibrant narrative energy."MARIA TATAR, author of The Annotated Brothers Grimm
Tod Davies has produced an imaginative book that will make readers think twice: do they know the meaning of fairy tales and of their own lives?"JACK ZIPES, author of Why Fairy Tales Stick
Book Videos