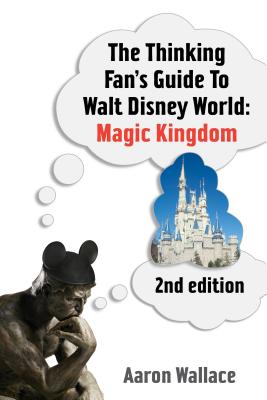 The Thinking Fan's Guide to Walt Disney World (Paperback)
Magic Kingdom
Intrepid Traveler, 9781937011505, 272pp.
Publication Date: September 7, 2015
* Individual store prices may vary.
Description
The Thinking Fan's Guide is a different kind of guidebook that leaves out the usual ephemera on trip planning, ticket prices, restaurants, and shopping to concentrate on what visitors to Magic Kingdom come to see--the rides and attractions. Wallace provides a lighthearted but scholarly look at each one in the Magic Kingdom's Adventureland, Frontierland, Liberty Square, Fantasyland, and Tomorrowland, as well as the Walt Disney World Railroad, Main Street, U.S.A., the parades, and the Wishes fireworks show. Far from being mere "amusements," these attractions provide a complex, multi-layered narrative that can be experienced and appreciated just like a great novel, play, or film. The book will fascinate Disney buffs with the sometimes surprising insights it offers into old favorites while offering newcomers to the Disney magic a much richer experience. This new edition adds coverage of the Fantasyland attractions that have opened since 2013, among them Seven Dwarfs Mine Train, Enchanted Tales with Belle, and Under the Sea - Journey of The Little Mermaid."The Thinking Fan's Guide is insanely readable. Through personal experiences and opinions, Wallace is able to keep the reader grounded in the real world, while still taking time to look back at the history of the attraction." -- Andrew Tipton, Disney Hipster Blog"Regardless of how many times you have personally visited, ... this book will not only increase your knowledge of the rich history and all the great attractions that the Magic Kingdom Park offers, but will also entertain you and give you an overview of the park you love... from another fan's perspective." -- Sam Carta, Orlando Theme Park News.
About the Author
Aaron Wallace has always had a passion for Disney, from movies to theme parks and everything in between. He first started thinking critically about the company's artistic output during his time at The University of North Carolina at Chapel Hill, where he earned a Bachelor of Arts degree in both Communication Studies and English. Today, Aaron is a writer and an attorney, having earned a Juris Doctor degree from Wake Forest University. He is also a professional film and media critic, who has published several hundred movie, television, and music reviews to an audience of millions. In addition to writing, Aaron hosts Zip-A-Dee-Doo-Pod, the web's second-longest-running non-commercial podcast dedicated entirely to Disney. Aaron lives in Orlando, Florida, and visits the Walt Disney World Resort on at least a weekly basis. He tweets his adventures on his Twitter page, @aaronspod. His website is www.AaronWallaceOnline.com.
or
Not Currently Available for Direct Purchase