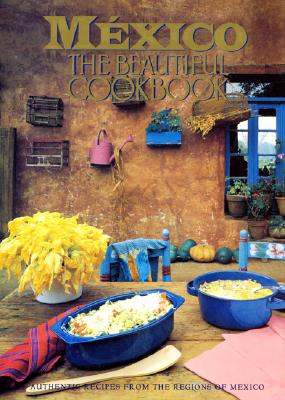 Mexico
The Beautiful Cookbook
Hardcover

* Individual store prices may vary.
Other Editions of This Title:
Hardcover (5/3/2004)
Description
The drama of Mexico's tumultuous history--the rise and fall of the Olmec and Maya civilizations, the magnificent Aztec world that greeted Cortes, the arrival of the Spanish conquistadors, and the turbulent revolutionary years--is vividly reflected in the cuisine of this vast country. Mexican food is history itself, a culinary marriage of native Indian foods such as corn, beans, squash, chocolate and chiles with the Spanish contribution of wheat, rice and meats. The merger resulted in one of the world's most intriguing and least understood cuisines.
Mexico the Beautiful Cookbook captures the fascinating culinary heritage of Mexico in one stunning volume. The recipes, prepared by Acapulco-based Susanna Palazuelos, represent a vast selection of authentic Mexican dishes, from all of the states of Mexico. Many of them are unusual regional dishes that have been passed along by word of mouth, such as garlic chicken from Veracruz, and San Luis Potosi's own version of enchiladas. The traditional favorites are here--chiles en nogada, tamales, pozole, tortilla soup--along with some contemporary surprises such as tequila mousse, cilantro soup and lobster crepes. With pine nut sauce. Other well-known Mexican cooks have also contributed their own special recipes to the book.
All 250 recipes have been photographed by Ignacio Urquiza, one of Mexico's foremost food and travel photographers. He also provided the scenic photographs, which lead the reader through the regions of Mexico, revealing the markets, the countryside, the way the people live and eat in this varied and beautiful country. Marilyn Tausend's text provides an informative accompaniment to the recipes and photos, exploring Mexico's dramatic history through its food.
Mexico the Beautiful Cookbook is the essential cookbook for anyone interested in Mexico and Mexican food.
Beautiful Cookbooks, 9780002159494, 256pp.
Publication Date: September 6, 1991
About the Author
Susanna Palazuelos has earned a reputation over the past two decades as Mexico's premier caterer. She has hosted parties around the world and at her estate in Acapulco, Casa Tres Fuentes. Palazuelos frequently attends culinary festivals in Mexico and abroad, sharing her vast knowledge of Mexican cooking, which includes traditional dishes as well as nouvelle cuisine. She was recently named to the Circulo Mexicano de Arte Culinario, a group honoring the distinguished women chefs of Mexico.
or
Not Currently Available for Direct Purchase