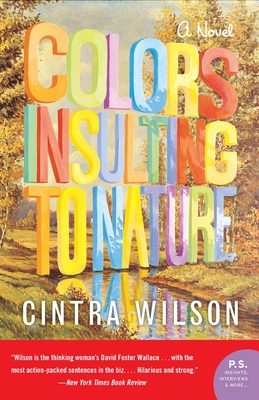 Colors Insulting to Nature (Paperback)
Harper Perennial, 9780007154579, 350pp.
Publication Date: June 14, 2005
Description
Like any healthy, red-blooded American, young Liza Normal wants to be famous. Like "people will see me and cry" famous. She lacks only talent. . . . Colors Insulting to Nature is a scaldingly hilarious coming-of-age novel, savage on the exterior but with a heart as tender as a marshmallow chick. It is a remarkable comic debut.
This P.S. edition features an extra 16 pages of insights into the book, including author interviews, recommended reading, and more.
Praise For Colors Insulting to Nature…
"A first novel from the Dorothy Parker of the Cyber Age."
-San Francisco Chronicle

"Cintra Wilson [is] the thinking woman's David Foster Wallace...with the most action packed sentences in the biz."
-New York Times Book Review

"Hilarious…You'll wince at Liza's outlandish humiliations along the way, but it won't stop you from laughing out loud."
-Harper's Bazaar, Hot List

"Hysterical…[Colors Insulting to Nature] takes us on a wacky trip to the heart of our celebrity-obsessed culture."
-Us Weekly, Hot Book Picks

"Riotous and harrowing … an impressive, maybe even great, comic novel."
-The Oregonian (Portland)

"A send-up of the celebrity obsessed by the woman who wrote the book on fame."
-Gotham

"A raucous, hilarious debut novel…[Wilson's] spirited send-up worship of celebrity worship is laugh-out-loud funny."-
-Publishers Weekly

"Wilson cranks out the zingers."
-People
Advertisement