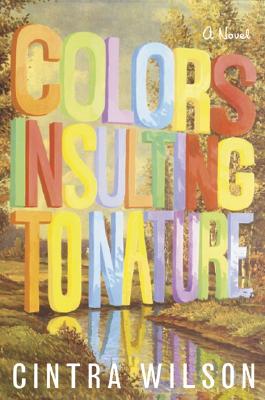 Colors Insulting to Nature
A Novel
Hardcover

* Individual store prices may vary.
Other Editions of This Title:
Paperback (6/14/2005)
Description
Look deep into your heart, Gentle Reader. Deep, deep, deep; past your desire for true love, for inexhaustible riches or uncontested sexual championship, for the ability to fight crime and restore peace to a weary world. Underneath all this, if you are a true, red-blooded American, you'll find the throbbing desire to be famous.
Liza Normal wants fame worse than air, food, sleep, or self-preservation. Her talents are slim, but she's been raised on a crash diet of Hollywood "I-can-do-it!" mythology, game-show anthems, and Love's Baby Soft–scented teen dreams. According to the delusional logic inherent in these value-starved sources, the key to Making It Big as a pop star is to simply want it badly enough and Believe in Yourself (and to follow the B-movie template for becoming one of life's golden winners -- see page 20). And so, innocent Liza's disco-ball fantasies are bowled down the yellow brick road, on a direct collision course with that whirling hall of hammers: Reality. She endures a wretched series of mishaps on the road to failure: disastrous love affairs, scorching humiliations. But Liza, a far better human than the two-dimensional starlet she thinks she wants to be, is indestructible.
In Colors Insulting to Nature, Cintra Wilson has fused ahilarious yet strangely touching coming-of-age story with a blistering satire of our celebrity-debased culture. In a world where unknowns compete to wear their ethical pants around their ankles on TV, where actors become presidents and plucky American Idols claw their way to stardom over the corpses of the dreams of a million wishful losers, Colors Insulting to Nature shocks us into seeing ourselves as we truly are, not as we think we look when we make that French pout face in the mirror. Not since John Kennedy Toole's A Confederacy of Dunces, Martin Amis's Money, or, yes, Rabelais's Gargantua and Pantagruel has an antihero peeled away the lamination of our society with such savage glee and empathy. Laugh, cry, cringe with self-recognition: Colors Insulting to Nature is a brilliant achievement.
Praise For Colors Insulting to Nature: A Novel…
"A first novel from the Dorothy Parker of the Cyber Age." — San Francisco Chronicle
"Cintra Wilson [is] the thinking woman's David Foster Wallace...with the most action packed sentences in the biz." — New York Times Book Review
"Hilarious…You'll wince at Liza's outlandish humiliations along the way, but it won't stop you from laughing out loud." — Harper's Bazaar, Hot List
"Hysterical…[Colors Insulting to Nature] takes us on a wacky trip to the heart of our celebrity-obsessed culture." — Us Weekly, Hot Book Picks
"Riotous and harrowing … an impressive, maybe even great, comic novel." — The Oregonian (Portland)
"A send-up of the celebrity obsessed by the woman who wrote the book on fame." — Gotham
"A raucous, hilarious debut novel…[Wilson's] spirited send-up worship of celebrity worship is laugh-out-loud funny."- — Publishers Weekly
"Wilson cranks out the zingers." — People
Harper, 9780007154609, 368pp.
Publication Date: August 10, 2004
About the Author
Cintra Wilson is a pop culture pundit whose column for Salon.com and collection of essays, A Massive Swelling: Celebrity Re-Examined as a Grotesque Crippling Disease, have garnered her a cult following. An award-winning playwright and screenwriter, she has seen her work produced by Tim Robbins's Actor's Gang theater company in Los Angeles, Naked Angels in New York, and MTV, where her creation Winter Steele was a long-running segment of Liquid Television. She lives in New York City.
or
Not Currently Available for Direct Purchase