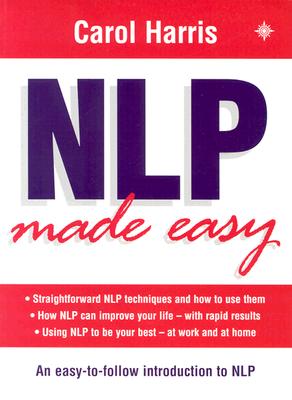 NLP Made Easy (Paperback)
Element, 9780007155460, 192pp.
Publication Date: May 19, 2003
* Individual store prices may vary.
Description
This is the most straightforward introduction to NLP on the market. Leading NLP practitioner Carol Harris explains exactly what NLP is in no-nonsense style. Shying away from complicated terms or hard-to-grasp techniques, she gives practical advice on using NLP in everyday life to get what you want.
Contents
Neuro-Linguistic Programming (NLP) focuses on the way we think (Neuro), the Linguistic ways in which we communicate, and the personal Programs that govern the way we behave. By observing and copying the best practices of successful people we can be successful too. - Discover the history and development of NLP. - How NLP can improve your life - with rapid results. - Straightforward NLP techniques and how to use them. - Using NLP to be your best - at work and at home. - Advice for those who want to take their interest in NLP further.
About the Author
Carol Harris is also a business mentor, trainer and author. She is a Master Practitioner of NLP and was, for four years, Chair of the UK Association for Neuro-Linguistic Programming as well as Editor of the Association's quarterly magazine, Rapport.Carol is a Sociology graduate, a Fellow of the Chartered Institute of Personnel and Development and a Fellow (and past Council member) of the Chartered Institute of Management Consultants. She helps people set up home-based businesses and works with companies and individuals to help them develop personal and business skills.Carol's other books include Networking for Success, Consult Yourself, Think Yourself Slim and the 'Success in Mind' audio series on personal effectiveness, which includes the titles Super Self, Handling Social Situations, Active Job Seeking, Creating a Good Impression and Super Slimming. She was publisher and editor of Effective Consulting magazine.