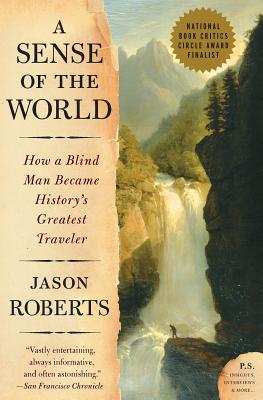 A Sense of the World: How a Blind Man Became History's Greatest Traveler (Paperback)
How a Blind Man Became History's Greatest Traveler
Harper Perennial, 9780007161263, 379pp.
Publication Date: May 29, 2007
Description
He was known simply as the Blind Traveler. A solitary, sightless adventurer, James Holman (1786-1857) fought the slave trade in Africa, survived a frozen captivity in Siberia, hunted rogue elephants in Ceylon, helped chart the Australian outback--and, astonishingly, circumnavigated the globe, becoming one of the greatest wonders of the world he so sagaciously explored. A Sense of the World is a spellbinding and moving rediscovery of one of history's most epic lives--a story to awaken our own senses of awe and wonder.
Praise For A Sense of the World: How a Blind Man Became History's Greatest Traveler…
"Enthralling...inspiring A moving, mesmerizing biography."
-Time magazine

"An admirable work, testament to the determination, resourcefulness, and skill of not only its subject, but also its author."
-Boston Globe

"Gives us a man who embraced wanderlust at a time when the continents and oceans were much, much bigger."
-New York Times

"Vibrant prose."
-Washington Post

"Through meticulous research…with intrigue and humor, Roberts brings Holman fully to life."
-Daily News

"Roberts has achieved much. His research is meticulous and…a person lost to history is now rediscovered."
-Denver Rocky Mountain News

"Vibrant...evok(es) with grace and wit the tale of this man once lionized as "The Blind Traveler."
-Publishers Weekly (starred review)

"Enthralling. A masterpiece of biography, travel writing and medical journalism."
-St. Louis Post-Dispatch

"Extraordinary…beautifully produced…Roberts made his hero one for the history books."
-Buffalo News

"Holman's remarkable life story, coupled with Roberts' extraordinary gifts as a storyteller, make this a fascinating read."
-Contra Costa Times

"A well-written popular history that will appeal to an audience interested in stories of individuals triumphing over physical difficulties."
-Library Journal

"A remarkable job of resurrecting Holman from obscurity, painting a portrait of a complex and compelling persona."
-Pittsburgh Post-Gazette

"Roberts's book is an excellent read.… An author with an enviable ability to tell the tale.
-The Spectator

"(A) meticulous recreation of Holman's world."
-Miami Herald

"Roberts is a beautifully assured writer."
-Seattle Times

"An imaginative journey (told with) enviable tact and skill."
-Daily Telegraph (London)

"(a) talented and committed writer."
-Raleigh News & Observer

"This warm-hearted and sensitive account should give Holman his due: a place in the pantheon of great travelers."
-The Guardian

"A tribute to an inspiring figure who, despite his blindness, was a far-sighted traveller."
-Bath Chronicle (UK)

"Paints a convincing and well-researched picture of Holman's early life…Holman's first trip, to Russia, is particularly well-drawn."
-The Economist

"Jason Roberts should be proud of his achievement in this sensitive and imaginative book."
-Times Literary Supplement (London)

"Roberts wisely tells this extraordinary story without embellishment. The tale will fill you with wonder. In a word: remarkable."
-Melbourne Herald Sun

"Holman's life as told in this biography reads like a dare to get out of the house and live!"
-NPR's Holiday Book Roundup

"Fascinating...rich...I don't expect to read a better [book] soon."
-Weekend Australian

"Painstakingly researched. Worth reading."
-Irish Times

"This excellent biography owes much to the wonderful balance the author achieves between detail and evocative description."
-ABC Magazine (UK)
Advertisement