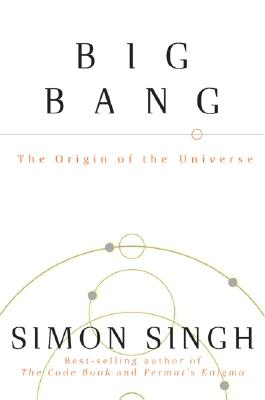 Big Bang (Hardcover)
The Origin of the Universe
Harper, 9780007162208, 544pp.
Publication Date: January 4, 2005
Other Editions of This Title:
Paperback (11/1/2005)
* Individual store prices may vary.
Description
We've all heard of the Big Bang, and yet few of us truly know what it is.
Renowned for making difficult ideas much less difficult than they might first appear, Simon Singh is our perfect guide to explaining why cosmologists believe that the Big Bang is an accurate description of the origin and evolution of the universe.
This highly readable and entertaining book tells the story of the many brilliant, often eccentric scientists who fought against the establishment idea of an eternal and unchanging cosmos. From such early Greek cosmologists as Anaximander to recent satellite measurements taken deep in space, Big Bang is a narrative full of anecdotes and personal histories. With characteristic clarity, Simon Singh tells the centuries-long story of mankind's attempt to understand how the universe came to be, a story which itself begins some 14 billion years ago (give or take a billion years). Simon Singh shows us that it is within the capability of all of us -- in his expert hands -- to understand the Big Bang: the fundamental theory in all of science, and a high point -- perhaps the high point -- of human achievement.
About the Author
Simon Singh received his Ph.D. in particle physics from the University of Cambridge. A former BBC producer, he directed the BAFTA Award-winning documentary film Fermat's Last Theorem and wrote Fermat's Enigma, the best-selling book on the same subject. His best seller The Code Book was the basis for the BBC series The Science of Secrecy.
Praise For Big Bang: The Origin of the Universe…
"It's hard to imagine a grander, more thrilling story…fast-paced…hugely entertaining…Big Bang is, quite literally, cosmic."
— New York Times

"Inimitable. . . . There's no better account of the big bang theory."
— Publishers Weekly (starred review)

"A clear, lively, and comprehensive view of the way science arrived at the leading theory of how everything began."-
— Kirkus Reviews (starred review)

"This book is a blast...who knew that the Big Bang could be so much fun?"
— James Gleick, bestselling author of CHAOS and FASTER

"Singh is one of the best science journalists writing today...Impressive."
— London Times (Sunday)

"An expert but friendly guide to help you decode the mysteries [of the universe] with crisp, clear running commentary."
— Sylvia Nasar, author of A Beautiful Mind

"Singh's unerring eye for picturesque anecdotes and his capacity for simplifying complex scientific ideas is a winning formula."
— Saturday Daily Telegraph (London)

"(Singh) is a gifted expositor, ready to venture to places other science popularisers don't even try to reach."
— The Mail (on Sunday)

"Highly readable… Singh brings the colourful protagonists in his story to life."
— New Scientist

"Singh spins tales of cryptic intrigue in every chapter."
— Wall Street Journal on The Code Book

"Entertaining and satisfying. . . . Offers a fascinating glimpse into the mostly secret competition between codemakers and codebreakers."
— USA Today on The Code Book

"Enthralling...commendably lucid...[Singh's] book provides a timely and entertaining summary of the subject."
— Economist on The Code Book

"Brings together...the geniuses who have secured communications, saved lives, and influenced the fate of nations. A pleasure to read."
— Chicago Tribune on The Code Book

"An absorbing tale of codemaking and codebreaking over the centuries."
— Scientific American on The Code Book

"The history of mathematics comes alive even for those who dread balancing their checkbooks."
— Publishers Weekly on Fermat's Enigma

"An excellent account of one of the most dramatic and moving events of the century."
— New York Times on Fermat's Enigma

"Fascinating…Simon Singh loves storytelling and has a knack for digging up underappreciated characters."
— New York Newsday

"Singh is a gifted writer…a good storyteller…and [he] knows how to describe and explain complex and esoteric subjects."
— San Diego Union-Tribune
or
Not Currently Available for Direct Purchase