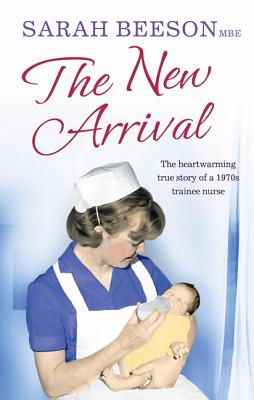 The New Arrival
The Heartwarming True Story of a 1970s Trainee Nurse
Paperback

* Individual store prices may vary.
Description
'I hadn't been in Hackney for 24 hours but I knew that the way I saw life and people had changed forever. There was such goodness here but there was a sadness I had never imagined before, and it wasn't even lunchtime yet ...'
On a hot summer's day in 1969, fresh-faced 17 year old Nurse Sarah Hill arrives at Hackney General Hospital in London's East End.
Battered suitcase in hand, she takes eager steps in her white calf-length Mary Quant boots towards the towering sandy-grey building of the Nurses' Home. Looking up at the rows and rows of little windows, full of nervous excitement, she couldn't have guessed just what she was getting herself into ...
It's the end of the swinging sixties, Britain is changing and the everyday life of the nurses and patients plays out against a backdrop of a failing government, strikes, immigration and women's lib. Nurse Sarah Hill, together with her companions; the serious minded, politicised Maddox, the quick witted Lynch, who falls in love with an upper crust young doctor, golden girl Nursery Nurse Appleton, and ex-musical hall star turned midwife Wade are thrown in straight at the deep end, working long hours with few days off under the watchful eye of the stern matron.
More than just a hospital, Hackney General was part of the community just as much as the Adam & Eve pub the staff frequent. A place where the poorly children of Hackney were nursed to health, a place where young nurses would discover just want they wanted from life, fall in love with shy photographers and grow into women. But it's not all smooth sailing in Hackney: for every baby that goes home to its loving family another is abandoned, unloved, or never gets to go home at all.
Funny, warm and deeply moving, Sarah Beeson's poignant memoir captures both the heartache and happiness of hospital life and 1970s London through the eyes of a gentle but determined young nurse.
Harper Element, 9780007520077, 341pp.
Publication Date: September 2, 2014
About the Author
In 1969, 17-year-old Sarah arrived in Hackney in the East End of London to begin her nursing career. Six years later she went into health visiting, practising for over 35 years in Kent and Staffordshire, and building up a lifetime's expertise and stories through working with babies and families. In 1998 Sarah received the Queen's Institute for Nursing Award and in 2006 was awarded an MBE for Services to Children and Families by Queen Elizabeth II. She later married and became Sarah Beeson. Now she divides her time between Staffordshire and London.
or
Not Currently Available for Direct Purchase