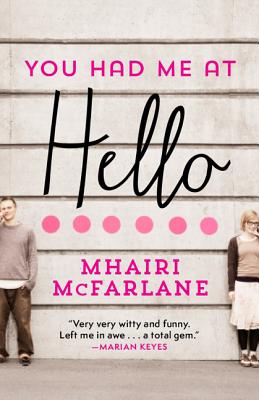 You Had Me at Hello (Paperback)
Avon Books, 9780007559466, 454pp.
Publication Date: February 25, 2014
* Individual store prices may vary.
Description
What happens when the one that got away comes back? Find out in this sparkling debut from Mhairi McFarlane.
'Think of the great duos of history. We're just like them.' 'You mean like Kylie and Jason? Torvill and Dean? Sonny and Cher?' 'I think you've missed the point, Rachel.'
Rachel and Ben. Ben and Rachel. It was them against the world. Until it all fell apart. It's been a decade since they last spoke, but when Rachel bumps into Ben one rainy day, the years melt away.
They'd been partners in crime and the best of friends. But life has moved on: Ben is married. Rachel is not. Yet in that split second, Rachel feels the old friendship return. And along with it, the broken heart she's never been able to mend.
Hilarious, heartbreaking and everything in between, you'll be hooked from their first 'hello'.
About the Author
Mhairi was born in Scotland in 1976 and has been explaining how to pronounce her name ever since. (With a 'V', not an 'M'. Yes, that's us crazy Celts for you).She is based in Nottingham where she used to be a local journalist and now she's a freelance writer and sometime-blogger, which we all know is code for messing about on Twitter.She likes drinking wine, eating food and obtaining clothes; all the impressive hobbies. Her best anecdotes involve dislocating her elbow tripping over a briefcase and a very bad flight to New York. She lives with a man and a cat.