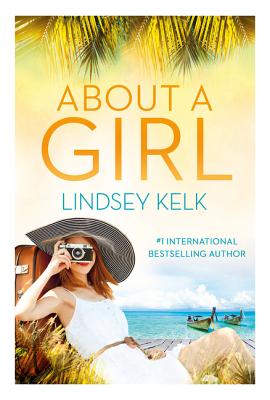 About a Girl (Tess Brookes Series, Book 1)
Paperback

* Individual store prices may vary.
Description
The summer bestseller from the immensely popular Lindsey Kelk
Tess Brookes has always been a Girl with a Plan. But when the Plan goes belly up, she's forced to reconsider.
After accidently answering her flatmate Vanessa's phone, she decides that since being Tess isn't going so well, she might try being Vanessa. With nothing left to lose, she accepts Vanessa's photography assignment to Hawaii - she used to be an amateur snapper, how hard can it be? Right?
But Tess is soon in big trouble. And the gorgeous journalist on the shoot with her, who is making it very clear he'd like to get into her pants, is an egotistical monster. Far from home and in someone else's shoes, Tess must decide whether to fight on through, or 'fess up and run...
HarperCollins, 9780007591411, 416pp.
Publication Date: April 14, 2015
About the Author
Lindsey Kelk was a children's book editor and is now a magazine columnist and author of I Heart New York, I Heart Hollywood, I Heart Paris, I Heart Vegas, I Heart London and The Single Girl's To-Do List. When she isn't writing or watching more TV than is healthy, Lindsey likes to wear shoes, shop for shoes and judge the shoes of others. She loves living in New York but misses Sherbet Fountains, London, and drinking Gin & Elderflower cocktails with her friends. Not necessarily in that order.
Tess and Charlie have been best friends for a decade but when they sleep together it seems to completely derail their friendship. Do you think that two friends can go back to being "just friends" after sleeping together? How do you think their relationship has been affected by their actions?
Tess has been in love with Charlie for as long as they have been friends, why do you think he never realized?
Why do you think Tess decided to take over her roommate's identity? How was this action out of character for someone like Tess? Is there a psychological reason behind this decision?
Why do you think that Tess is drawn towards Nick though she is in love with Charlie? Who did you think she should be with? Who would you pick for yourself?
How do you think Tess handles her confession when she comes clean about who she really is? If you were Tess, how do you think you would've handled it? How about if you were Kekipi? If you were Nick, what would you have done?
What do you think that Tess has learned from her experience pretending to be someone else?
In the end Tess must make a choice between her old life and her new. Which do you think Tess should choose? Which would you choose?
or
Not Currently Available for Direct Purchase