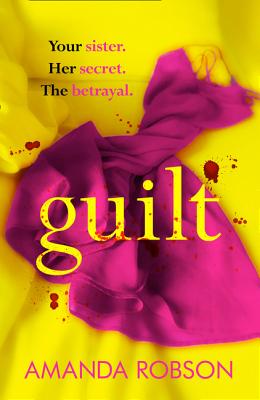 Guilt (Paperback)
Avon Books, 9780008212247, 416pp.
Publication Date: June 19, 2018
* Individual store prices may vary.
Description
'Another brilliant read from Amanda Robson. A dark, addictive and compelling page turner ' B A PARIS, bestselling author of BEHIND CLOSED DOORS
The number 1 bestseller is back
Your sister. Her secret. The betrayal.
There is no bond greater than blood . . .
When the body of a woman is found stabbed to death, the blame falls to her twin sister. But who killed who? And which one is now the woman behind bars?
Zara and Miranda have always supported each other. But then Zara meets Seb, and everything changes. Handsome, charismatic and dangerous, Seb threatens to tear the sisters' lives apart - but is he really the one to blame? Or are deeper resentments simmering beneath the surface that the sisters must face up to?
As the sisters' relationship is stretched to the brink, a traumatic incident in Seb's past begins to rear its head and soon all three are locked in a psychological battle that will leave someone dead. The question is, who?
Claustrophobic and compelling, Amanda Robson is back in a knock-out thriller perfect for fans of B.A. Paris and Paula Hawkins.
About the Author
After graduating, Amanda Robson worked in medical research at The London School of Hygiene and Tropical Medicine, and at the Poisons Unit at Guy's Hospital where she became a co-author of a book on cyanide poisoning.Amanda attended the Faber novel writing course and writes full-time. Her debut novel, Obsession, hit the Kindle top 100, staying there for weeks, and reached number 1 on iBooks. It has received widespread acclaim from authors and press alike.