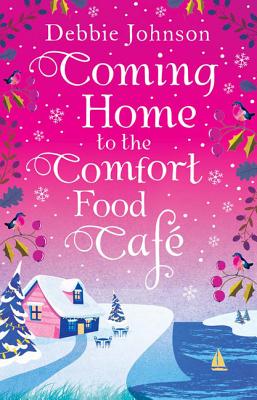 Coming Home to the Comfort Food Cafe (Paperback)
One More Chapter, 9780008263713, 400pp.
Publication Date: October 9, 2018
* Individual store prices may vary.
Description
A brand new cosy novel from bestselling author Debbie Johnson.
Welcome to the cosy Comfort Food Caf , where there's kindness in every cup of hot chocolate and the menu is sprinkled with love and happiness...
'Full of comfort and cheer - the perfect antidote to cold winter nights'
Sunday Times
bestseller Jane Costello
Moving to the little village of Budbury, Zoe hopes the crisp Dorset sea breeze and gentle pace of life will be a fresh start for her and her goddaughter, Martha.
Luckily for them both, the friendly community at the caf provide listening ears, sage advice, shoulders to cry on, and some truly excellent carrot cake. And when Martha's enigmatic, absent father suddenly turns up, confusing not only Martha but Zoe too, the love and support of their new-found friends is the best present they could ask for.
Have Zoe and Martha truly found their home at the Comfort Food Caf ?
'As sweet and as satisfying as a mug of hot chocolate'
Sunday Times
bestseller Milly Johnson
Readers LOVE the Comfort Food Cafe
'Full of heart and delivers so much more than you expect...a real joy to read' Alba in Bookland
'I truly believe that Budbury, the Comfort Food Caf and the characters that live there have magical healing powers. I want to live there. I want to be in the novel, in every book in this series' Lisa Talks About
'I urge you to pull up a chair, grab a bowl of your own comfort food and sit back and relax with a wonderful story' Rachel's Random Reads
'Funny, touching, realistic and sweet' Bananas Are Tricky
'I simply adored it with all my heart and my whole little miserable life' On My Bookshelf
'Debbie's best yet' Annie Cooper's Book Corner
'Such a heartfelt story' Jane Hunt Book Reviews
'The perfect story whatever the season. I adored it' Rae Reads
About the Author
Debbie Johnson is a best-selling author who lives and works in Liverpool, where she divides her time between writing, caring for a small tribe of children and animals, and not doing the housework.Her books include The Birthday That Changed Everything, Pippa's Cornish Dream, and Summer at the Comfort Food Cafe, all published by HarperCollins.Follow her on twitter @debbiemjohnson, or at www.facebook.com/debbiejohnsonauthor - but be warned, she mainly talks about dogs.