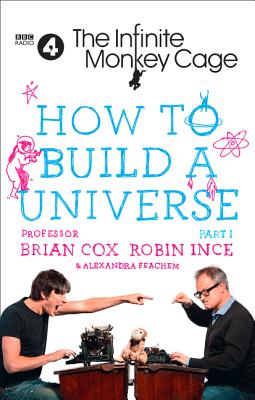 The Infinite Monkey Cage - How to Build a Universe (Hardcover)
William Collins, 9780008276102, 288pp.
Publication Date: June 5, 2018
* Individual store prices may vary.
Description
The Infinite Monkey Cage, the legendary BBC Radio 4 programme, brings you this irreverent celebration of scientific marvels. Join us on a hectic leap through the grand and bizarre ideas conjured up by human imagination, from dark matter to consciousness via neutrinos and earthworms.
Professor Brian Cox and Robin Ince muse on multifaceted subjects involved in building a universe, with pearls of wisdom from leading scientists and comedians peppered throughout.
Covering billions of concepts and conundrums, they tackle everything from the Big Bang to parallel universes, fierce creatures to extraterrestrial life, brain science to artificial intelligence. How to Build a Universe is an illuminating and inspirational celebration of science - sometimes silly, sometimes astounding and very occasionally facetious.
About the Author
Professor Brian Cox, OBE FRS is Professor of Particle Physics at the University of Manchester and the Royal Society Professor for Public Engagement in Science. He is best known as a science broadcaster and presenter of the popular BBC Wonders trilogy, Human Universe, Forces of Nature and Stargazing Live, as well as co-presenting BBC Radio 4's multi-award winning science/comedy show The Infinite Monkey Cage. He was also the keyboard player in the UK pop band D: Ream in the 1990s and used to be a bus spotter.Robin Ince was in a far less successful band than Brian Cox called The Reg Gutteridge Experience. Their songs have not been used by any political party as an anthem, not even 'The Hornsey Axe Murderer'. As well as shows about science he does podcasts about angry music with Michael Legge (Vitriola) and The Book Shambles Podcast with Josie Long. He has sometimes received awards for his stand-up which is about stuffed goats in galleries and Kurt Vonnegut. He lost a round of Just a Minute after saying 'allo allo' when his brain needed a reference to a sitcom. Paul Merton was gleeful. He has also edited two anthologies of horror stories by comedians called Dead Funny. He is best known for presenting The Infinite Monkey Cage with Brian Cox on BBC Radio 4.Alexandra (Sasha) Feachem is the producer and co-creator of BBC Radio 4's multi-award winning science/comedy show The Infinite Monkey Cage. When she is not trying to contain the monkeys inside their infinite cage, she can be found in the less roomy environment of the BBC Radio Science Unit making all manner of science shows and documentaries for BBC Radio 4 and the BBC World Service.