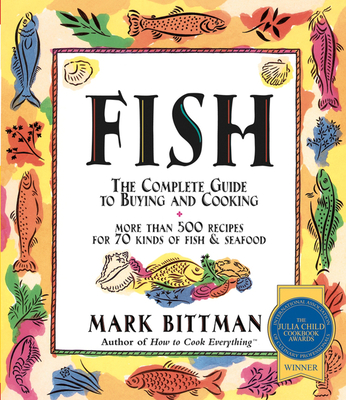 Fish
The Complete Guide to Buying and Cooking
Paperback

* Individual store prices may vary.
Description
Fish: The Complete Guide to Buying and Cooking is a book that simplifies, once and for all, the process of preparing fish. Organized in an easy-reference, A-Z format, Fish gives you the culinary lowdown on seventy kinds of fish and shellfish commonly found in American supermarkets and fish stores. Each entry describes how the fish is sold (fillets, steaks, whole, salted), other names it goes by, how the fish should look, and buying tips. Fish begins with general guidelines on how to store, prepare, and cook fish, whether sauteing, frying, grilling, or smoking, and you will find easy-to-follow illustrations of such important basics as how to gut and fillet a fish. Fish also includes up-to-the-minute information on the health benefits of fish in our diet. In addition, there are more than five hundred recipes and variations, all of which use low-fat, high-flavor ingredients to accent the intrinsic natures of the individual fish rather than mask them. And the vast majority of the recipes are ready in less than thirty minutes.
Mariner Books, 9780028631523, 384pp.
Publication Date: January 12, 1999
About the Author
MARK BITTMAN is the author of more than thirty books, including the How to Cook Everything series and the #1 New York Times bestseller VB6: Eat Vegan Before 6:00 to Lose Weight and Restore Your Health . . . for Good. He was a food columnist, opinion columnist, and the lead magazine food writer at the New York Times, where he started writing in 1984 and remained for more than thirty years.
 
Bittman has starred in four television series, including Showtime's Emmy-winning Years of Living Dangerously. He is a longtime Today regular and has made hundreds of television, radio, and podcast appearances, including on Jimmy Kimmel Live!, Real Time with Bill Maher, and CBS's The Dish; and on NPR's All Things Considered, Fresh Air, and Morning Edition.
 
Bittman has written for countless publications and spoken at dozens of universities and conferences; his 2007 TED talk "What's wrong with what we eat?" has almost five million views. He was a distinguished fellow at the University of California, Berkeley, and a fellow at the Union of Concerned Scientists. He has received six James Beard Awards, four IACP Awards, and numerous other honors.
 
Bittman is currently special advisor on food policy at Columbia University's Mailman School of Public Health, where he teaches and hosts a lecture series. He is also the editor in chief of Heated. His most recent book is his history of food and humanity, Animal, Vegetable, Junk.