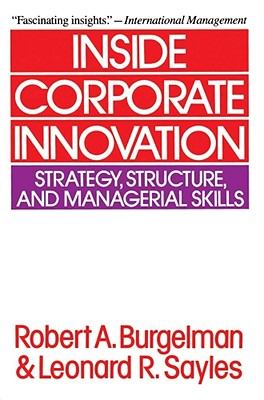 Inside Corporate Innovation (Paperback)
Free Press, 9780029043417, 240pp.
Publication Date: August 1, 1988
* Individual store prices may vary.
Description
The new wave of organizational innovations involves new types of arrangements between individuals and corporations. It is likely to continue to produce new organizational forms, spanning the entire range of combinations of markets and hierarchies and involving complex, sometimes protracted negotiation processes between individuals and corporate entities. Such negotiation processes, we believe, will be an increasingly pervasive aspect of corporate life and an important mechanism for facilitating the new integration of individualism and big business through corporate entrepreneurship.
About the Author
Robert A. Burgelman is the Edmund W. Littlefield Professor of Management and the Executive Director of the Stanford Executive Program. He joined the Stanford Business School as an Assistant Professor in 1981. He obtained a Licentiate degree in Applied Economics from Antwerp University, an MA in Sociology, and a PhD in Management of Organizations from Columbia University. He has published articles in leading academic and professional journals, and his books include Inside Corporate Innovation: Strategy, Structure, and Managerial Skills, Research of Technological Innovation, Management and Policy, Strategy Is Destiny: How Strategy-Making Shapes a Company's Future, Strategic Dynamics: Concepts and Cases, and Strategic Management of Technology and Innovation.
Praise For Inside Corporate Innovation…
International Management Fascinating insights.