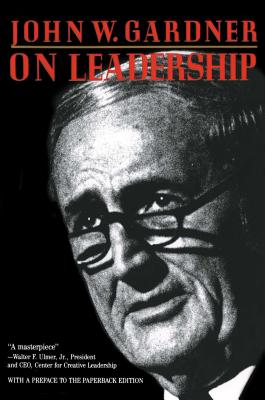 On Leadership
Paperback

* Individual store prices may vary.
Description
In this insightful classic, John Gardner unpacks what it means to be a leader, stressing the importance of dispersed leadership and a primary understanding of leadership as applied across all sectors of society. "A masterpiece."--Walter F. Ulmer, Jr., President and CEO, Center for Creative Leadership Leaders today are familiar with the demand that they come forward with a new vision. But it is not a matter of fabricating a new vision out of whole cloth. A vision relevant for us today will build on values deeply embedded in human history and in our own tradition. It is not as though we come to the task unready. Men and women from the beginning of history have groped and struggled for various pieces of the answer. The materials out of which we build the vision will be the moral strivings of the species, today and in the distant past. Most of the ingredients of a vision for this country have been with us for a long time. As the poet wrote, "The light we sought is shining still." That we have failed and fumbled in some of our attempts to achieve our ideals is obvious. But the great ideas still beckon--freedom, equality, justice, the release of human possibilities. The vision is to live up to the best in our past and to reach the goals we have yet to achieve--with respect to our domestic problems and our responsibilities worldwide. --From the Preface to On Leadership
Free Press, 9780029113127, 220pp.
Publication Date: March 12, 1993
About the Author
John W. Gardner attended Stanford University (A.B., 1935; M.A., 1936) and the University of California (Ph.D., 1938). He taught psychology at the University of California, Connecticut College and Mount Holyoke College. He was an officer in the U.S. Marine Corps in World War II.

He was president of the Carnegie Corporation and the Carnegie Foundation for the Advancement of Teaching (1955 - 1965); U.S. Secretary of Health, Education, and Welfare (1965 - 1968); chairman of the National Urban Coalition (1968 - 1970); founding chairman of Common Cause (l970 - l977); and a co-founder of Independent Sector (1980). Mr. Gardner served on President Kennedy's Task Force on Education and was chairman of President Kennedy's Commission on International Educational and Cultural Affairs. He was chairman of President Johnson's Task Force on Education, served on President Carter's Commission on an Agenda for the '80s, and chaired (1976 - 1980) the President's Commission on White House Fellowships. He served on President Reagan's Task Force on Private Sector Initiatives.

Mr. Gardner has been a director of a number of corporations, including Shell Oil Company, the New York Telephone Company, American Airlines and Time, Inc. Among other organizations he has served as a board member are Stanford University and the Scientific Advisory Board of the Air Force.

Mr. Gardner was the editor of President John F. Kennedy's book "To Turn the Tide" and the author of "Excellence, Self-Renewal, No Easy Victories, The Recovery of Confidence, In Common Cause" and "Morale." He is the coeditor, with Francesca Gardner Reese, of "Quotations of Wit and Wisdom."

In 1964 Mr. Gardner was awarded the Presidential Medal of Freedom, the highest civil honor in the United States. Among other awards he has received are the U.S. Air Force Exceptional Service Award, and the Distinguished Achievement Medal of the Stanford Athletic Board.