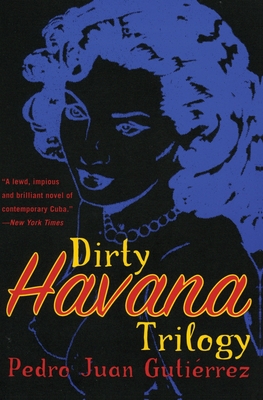 Dirty Havana Trilogy
A Novel in Stories
Paperback

* Individual store prices may vary.
Description
"A lewd, impious and brilliant novel of contemporary Cuba. In the brutality of his honesty, Mr. Gutierrez reminds one of Jean Genet and Charles Bukowski." —New York Times
Dirty Havana Trilogy chronicles the misadventures of Pedro Juan, a former journalist now living hand to mouth in and around Cuba, half disgusted and half fascinated by the depths to which he has sunk. Collecting garbage, peddling marijuana or black-market produce, clearing undesirables off the streets, whoring himself, begging, sacrificing to the santos, Pedro Juan scrapes by under the shadow of hunger—all the while surviving through the escapist pursuit of sex. Pedro Juan's unsentimental, mocking, yet sympathetic eye captures a shocking underbelly of today's Cuba.
Banned in Cuba but celebrated throughout the Spanish speaking world, Gutierrez's picaresque novel is a fierce, loving tribute to Havana and the defiant, desperate way of life that flourishes amid its decay.
Praise For Dirty Havana Trilogy: A Novel in Stories…
"In the tradition of other ribald, earthy, urban authors like Blaise Cendrars, Charles Bukowski and Henry Miller, Gutierrez is an exuberant writer…[Dirty Havana Trilogy] is not only entertaining; it's also curiously uplifting as it illuminates the darker places of a society on the brink."
— New York Times Book Review

"As a tale of human ingenuity and hidden hopefulness overcoming near-insuperable odds...Dirty Havana Trilogy is a good bad book."
— The Guardian

"Dirty Havana Trilogy is a courageous book from someone who still lives on the island, a singular chronicle of the "dirty" reality of today's Cuban society. Gutierrez's prose exudes the rage and indignation of a native, and reading him is a memorable experience for those who don't shy away from a little suffering with their literature."
— Miami Herald

"Every now and then you come across a writer, like Kerouac, Miller, Bukowski, who sets you on fire, who inspires you (and this is not a bad thing) to drink, fornicate, go mad--to seek solace any way you can. Pedro Juan Gutierrez is such a writer. He puts his soul and his city--one and the same?--on the line for all to see. And his city, Havana, is a place of beauty and torment--a glorious, lewd, moveable orgy."
— Jonathan Ames

"Readers weary of the pieties of Borges can welcome this gutsy, outrageous Cuban novel which may awaken moribund Spanish fiction to the new millennium."
— James Purdy
Ecco, 9780060006891, 400pp.
Publication Date: February 5, 2002
About the Author
Pedro Juan Gutiérrez is the author of several published works of poetry. He lives in Havana, where he devotes himself to writing and painting.