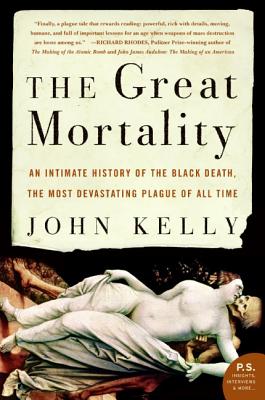 The Great Mortality (Paperback)
An Intimate History of the Black Death, the Most Devastating Plague of All Time
Harper Perennial, 9780060006938, 400pp.
Publication Date: January 31, 2006
* Individual store prices may vary.
Description
La moria grandissima began its terrible journey across the European and Asian continents in 1347, leaving unimaginable devastation in its wake. Five years later, twenty-five million people were dead, felled by the scourge that would come to be called the Black Death. The Great Mortality is the extraordinary epic account of the worst natural disaster in European history -- a drama of courage, cowardice, misery, madness, and sacrifice that brilliantly illuminates humankind's darkest days when an old world ended and a new world was born.
About the Author
John Kelly, who holds a graduate degree in European history, is the author and coauthor of ten books on science, medicine, and human behavior, including Three on the Edge, which Publishers Weekly called the work of "an expert storyteller." He lives in New York City.
Praise For The Great Mortality: An Intimate History of the Black Death, the Most Devastating Plague of All Time…
"John Kelly gives the reader a ferocious, pictorial account of the horrific ravages of [The Black Death]."
— Michiko Kakutani, New York Times

"Splendidly written. Kelly has written a popular history based on the best scholarship available, and written it very well indeed."
— Detroit Free Press (**** 4 out of 4 stars)

"A fascinating account of the plague. A frightening reminder of what could happen today."
— Nelson DeMille, The Birmingham News

"Stunning. The Great Mortality [is endowed with] the sheer immediacy ancient history yields to only a few."
— Houston Chronicle

"A compelling and bone-chilling account."
— Tampa Tribune

"...splendidly written..."
— Philadelphia Inquirer

"This sweeping, viscerally exciting book contributes to a literature of perpetual fascination."
— Booklist (starred review)

"A ground-level illustration of how the plague ravaged Europe…putting a vivid, human face on an unimaginable nightmare."
— Kirkus Reviews

"...accessible and engrossing..."
— Publishers Weekly

"A compellingly vivid account."
— The Guardian

"THE GREAT MORTALITY skillfully draws on eyewitness accounts to construct a journal of the plague years."
— New York Times Book Review

"THE GREAT MORTALITY is a chilling account of a global siege, public pits, death-carts, silent villages and empty streets."
— Charleston Post & Courier

"A compelling and eminently readable portrait."
— Library Journal

"There has never been a better researched, better written, or more engaging account of the epidemic the world has ever known. Superb and fascinating."
— Simon Winchester, author of The Professor and the Madman and Krakatoa

"Powerful, rich, moving, humane, and full of important lessons for an age when weapons of mass destruction are loose."
— Richard Rhodes, Pulitzer Prize-winning author of The Making of the Atomic Bomb and John James Audubon: The Making of an American

"Written with a keen eye for the details of the past, it might also be a warning about our future."
— Jack Weatherford, DeWitt Wallace Professor of Anthropology at Macalester College and author of Genghis Khan and the Making of the Modern World

"Rich and evocative…written in the tradition of Barbara Tuchman, I couldn't stop reading this work of brilliance and wisdom."
— Richard Preston, author of The Hot Zone