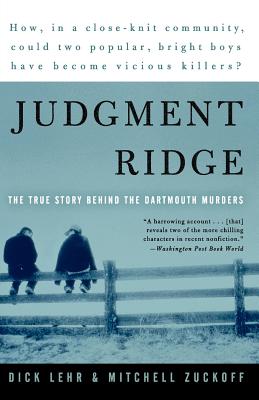 Judgment Ridge (Paperback)
The True Story Behind the Dartmouth Murders
Harper Perennial, 9780060008451, 448pp.
Publication Date: August 31, 2004
* Individual store prices may vary.
Description
A riveting investigation of the brutal murders of two Dartmouth professors –– a book that, like In Cold Blood, reveals the chilling reality behind a murder that captivated the nation.
On a cold night in January 2001, the idyllic community of Dartmouth College was shattered by the discovery that two of its most beloved professors had been hacked to death in their own home. Investigators searched helplessly for clues linking the victims, Half and Susanne Zantop, to their murderer or murderers. A few weeks later, across the river, in the town of Chelsea, Vermont, police cars were spotted in front of the house of high school senior Robert Tulloch. The police had come to question Tulloch and his best friend, Jim Parker. Soon , the town discovered the incomprehensible reality that Tulloch and Parker, two of Chelsea's brightest and most popular sons, were now fugitives, wanted for the murders of Half and Susanne Zantop.
Authors Mitchell Zuckoff and Dick Lehr provide a vivid explication of a murder that captivated the nation, as well as dramatic revelations about the forces that turned two popular teenagers into killers. Judgement Ridge conveys a deep appreciation for the lives (and the devastating loss) of Half and Susanne Zantop, while also providing a clear portrait of the killers, their families, and their community –and, perhaps, a warning to any parent about what evil may lurk in the hearts of boys.
About the Author
As a reporter for nearly two decades for the Boston Globe, Dick Lehr won numerous journalism awards and was a finalist for the Pulitzer Prize. A professor of journalism at Boston University, he is coauthor of the Edgar Award-winning Black Mass, the Edgar Award finalist Judgment Ridge, and The Underboss. He lives near Boston with his wife and four children.
Mitchell Zuckoff is the Sumner M. Redstone Professor of Narrative Studies at Boston University. He covered 9/11 for the Boston Globe, and wrote the lead news story on the day of the attacks. Zuckoff is the author of seven previous nonfiction books, including the #1 New York Times bestseller "13 Hours," which became the basis of the Paramount Pictures movie of the same name. As a member of the Boston Globe Spotlight Team, he was a finalist for the Pulitzer Prize in investigative reporting and the winner of numerous national awards. He lives outside Boston with his family.
Praise For Judgment Ridge: The True Story Behind the Dartmouth Murders…
"One of the best books of the year."
— Boston Globe

"Fascinating."
— The New Yorker

"Join[s] Truman Capote's classic, In Cold Blood, as one of the standards in crime writing."
— Boston Globe

"A harrowing account...[that] reveals two of the more chilling characters in recent nonfiction."
— Washington Post Book World

"Irresistible...It pulls you in."
— Hartford Courant

"Spellbinding ... [reveals] the story behind the headlines....Multifaceted and richly believable."
— Denver Post

"A tour de force of reporting...a gripping narrative."
— Worcester Telegram and Gazette

"A suspenseful and chilling story."
— Ft. Pierce (FL) Tribune

"Similar to ... In Cold Blood ... a nuanced portrait of a serial killer as a young man."
— Maxim

"A sensational news story....irresistably absorbing."
— Publishers Weekly

"A sorrowful tale of teenagers drawn to murder, artfully structured....the crime seems at once unspeakable and inescapable."
— Kirkus Reviews

"A chilling and revealing look at a crime that fueled concerns about adolescents and violence in a post-Columbine environment."
— Booklist

"A chilling story of toxic friendship and psychopathic amorality."
— Library Journal