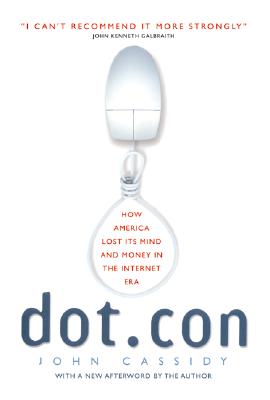 Dot.con (Paperback)
How America Lost Its Mind and Money in the Internet Era
Harper Perennial, 9780060008819, 416pp.
Publication Date: May 13, 2003
Other Editions of This Title:
Hardcover (2/5/2002)
* Individual store prices may vary.
Description
The Internet stock bubble wasn't just about goggle-eyed day traderstrying to get rich on the Nasdaq and goateed twenty-five-year-olds playing wannabe Bill Gates. It was also about an America that believed it had discovered the secret of eternal prosperity: it said something about all of us, and what we thought about ourselves, as the twenty-first century dawned. John Cassidy's Dot.con brings this tumultuous episode to life. Moving from the Cold War Pentagon to Silicon Valley to Wall Street and into the homes of millions of Americans, Cassidy tells the story of the great boom and bust in an authoritative and entertaining narrative. Featuring all the iconic figures of the Internet era -- Marc Andreessen, Jeff Bezos, Steve Case, Alan Greenspan, and many others -- and with a new Afterword on the aftermath of the bust, Dot.con is a panoramic and stirring account of human greed and gullibility.
About the Author
John Cassidy, one of the country's leading business journalists, has been a staff writer at the New Yorker for six years, covering economics and finance. Previously he was business editor of the Sunday Times (London) and deputy editor of the New York Post. He lives in New York.
Praise For Dot.con: How America Lost Its Mind and Money in the Internet Era…
"The first good book about one of capitalism's most embarrassing debacles."
— Salon.com

"Admirably lucid and comprehensive."
— The Guardian (London)

"A marvelous book. . . . Dot.con will be read by generations of .... B-school graduates."
— Wall Street Journal

John Cassidy is one of the world's best financial journalists. Dot.con [is] compelling.
— Rupert Murdoch

"John Cassidy's [Dot.con] deserves to be the boom's standard account. It is informative, perceptive, and gracefully written."
— New Republic

"Shrewd and entertaining...thoroughly persuasive."
— The Economist