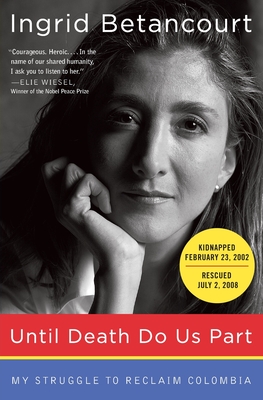 Until Death Do Us Part: My Struggle to Reclaim Colombia (Paperback)
My Struggle to Reclaim Colombia
Harper Perennial, 9780060008918, 256pp.
Publication Date: September 1, 2008
Description
In 2002, Colombian senator, anticorruption crusader, and presidential candidate Ingrid Betancourt was kidnapped by leftist guerrillas. She was their prisoner for more than six years. Until now.
Until Death Do Us Part is the deeply personal autobiography of an extraordinary woman who gave up a life of comfort and safety to become a political leader in a country slowly being demolished by terrorism, violence, fear, and a pervasive sense of hopelessness. A memoir that reads like a fast-paced political thriller--at once poignant, chilling, and inspiring--it is a story of a reformer, a mother, a patriot whose love for her country and faith in democracy gave her the courage to stand up to the power that has subjugated, intimidated, or corrupted all those who opposed it . . . and ultimately paid an unimaginable price for her commitment.
Advertisement