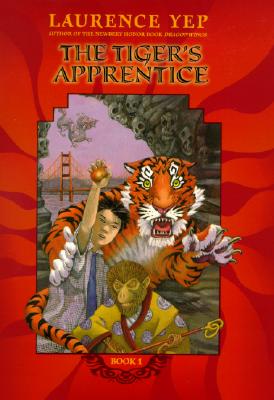 The Tiger's Apprentice (Hardcover)
Book One
HarperCollins, 9780060010133, 192pp.
Publication Date: April 1, 2003
Other Editions of This Title:
Paperback (12/28/2004)
Prebound (12/28/2004)
* Individual store prices may vary.
Description
It isn't every day you meet a tiger. And certainly not a tiger in a suit and tie. And definitely not one who knows your first name.
From that minute on, Tom's life changes forever. Tom has always felt different from everyone else, but he has no idea how different he really is until he learns that he is the latest in a long line of magic-wielding beings called Guardians. For centuries, a Guardian has protected a powerful talisman that can either bring peace to the world or bring about its destruction. it has been kept safe-until now.
For now, the most evil being of all has sent his terrifying minions to lay siege to the talisman and its latest Guardian, a tiger called Mr. Hu. The Guardian has his own allies in the battle, including an outlaw dragon, a mischievous monkey, and his new apprentice-Tom. But Tom doesn't want to be the tiger's apprentice. What can he possibly do to help this ragtag band? And can they all stop bickering long enough to unite their powers in time?
This rich, action-packed fantasy from two-time Newbery Honor author Laurence Yep reveals a hidden world within our own-where animals take human form, where friendship is the final weapon in the battle between good and evil, and where a young boy must save the world he knows . . . and the one he is just discovering.
About the Author
Laurence Yep is the acclaimed author of more than sixty books for young people and a winner of the Laura Ingalls Wilder Award. His illustrious list of novels includes the Newbery Honor Books Dragonwings and Dragon's Gate; The Earth Dragon Awakes: The San Francisco Earthquake of 1906, a Texas Bluebonnet Award nominee; and The Dragon's Child: A Story of Angel Island, which he cowrote with his niece, Dr. Kathleen S. Yep, and was named a New York Public Library's "One Hundred Titles for Reading and Sharing" and a Bank Street College of Education Best Children's Book.
Mr. Yep grew up in San Francisco, where he was born. He attended Marquette University, graduated from the University of California at Santa Cruz, and received his PhD from the State University of New York at Buffalo. He lives in Pacific Grove, California, with his wife, the writer Joanne Ryder.
or
Not Currently Available for Direct Purchase